13 Feb 2015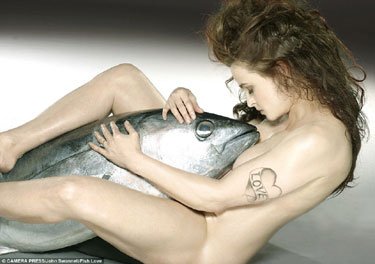 Another prominent member of the international community of fashion offers ethical instruction to the rest of us in a manner combining canting sanctimony with extreme exhibitionism, reports the Telegraph.
For a woman who readily admits to being afraid of fish, a giant tuna seems to be the most unlikely of Valentine's dates.

However, Helena Bonham Carter overcome her phobia to pose naked with this magnificent specimen in support of the Blue Marine Foundation, which is campaigning for marine reserves to protect endangered species around the world.

The 48-year-old actress, who split from director Tim Burton last December, was persuaded to undertake the project by her friend Greta Scacchi.

Having said that, I conquered my fears and by the end of the morning we'd truly bonded. He will be my Valentine.'

The fish in question was a Bigeye tuna, which belongs to the wider mackerel family Scombridae.

The actress appears nude while embracing a Bigeye Tuna in a series of photos in a rather unusual show of support for the Blue Marine Foundation.

Model Lizzie Jagger and actress Emilia Fox have also posed nude for Fishlove.
Read the whole thing.