01 Oct 2014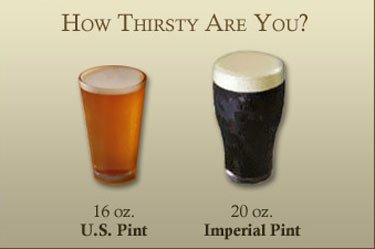 I'd prefer champagne to Guinness.
The Guardian reports (along with some major up-sucking to the poofters) a token expression of actual conservatism by Bristish PM David Cameron.
Schools should teach pupils mainly in imperial and not metric measurements, David Cameron has said.

Four decades since metres and litres replaced yards and pints on the curriculum, the prime minister suggested he would prefer to see a return to the old system.

"I think I'd still go for pounds and ounces, yes I do," Cameron told BBC2's Newsnight when asked which should be taught predominantly.

The present curriculum, which Tory ministers have said they will skew towards imperial measures, requires only that pupils "understand and use approximate equivalences between metric units and common imperial units such as inches, pounds and pints".
———————–
But, restoring Imperial measure, and particularly restoring the Imperial pint, is nonetheless a highly worthy goal, as Simon Berry once argued in the Spectator.
The imperial pint makes for a perfect-sized bottle. You get four proper-sized glasses from it — as opposed to six from a bottle, or three from a half-bottle. Champagne is designed to be shared, preferably with one other person. Six glasses between two are — if you're carrying on to another bottle with dinner — too much. However, three glasses are certainly too little to share between two people: one for me, one for you, and a dribble for us both to finish? That's just mean, and the one thing you should never associate with champagne is meanness.

The imperial pint was Churchill's favourite way of drinking his beloved Pol Roger — there's even one proudly displayed in the Cabinet War Rooms (which we supplied from the Berry Bros & Rudd private reserves). I also associate the pint with Duff Cooper. In 1953, in his memoir Old Men Forget, he writes: 'I ordered an imperial pint of champagne, that admirable measure which like so many good things has disappeared from the world.' He is remembering a bleak Sunday night in the early stages of the first world war, when he was dining alone at his club, due to return to his army training camp and overcome by 'a great cloud of depression'. But the pint bottle and a copy of Through the Looking-Glass accompanied him through his dinner, and 'as by enchantment my melancholy left me and I knew that I should not be unhappy again'.
Hat tip to James Delingpole [Facebook].