28 Mar 2016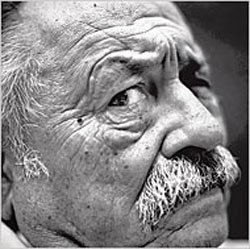 Harrison looked like one of those European mastiffs, so ugly that he was beautiful.
Jim Harrison, who passed away on Saturday at the age of 78, was for my money the best living American writer of fiction. Jim Harrison wrote simply, elegantly, and perceptively about real Americans, the out-of-doors, and what the Japanese refer to as "the immortal questions." He was prolific: 21 books of fiction and 14 of poetry, and, with the help of a loan of $15,000 from Jack Nicholson early in his writing career that gave him time to complete the break-through collection of novellas which sold some screenplays, successful enough to support a life-style which included flying to Paris to have lunch, extreme oenophilia with an emphasis on Burgundies, and a kitchen larder loaded with caviar and pâté.
Jim Harrison could step gracefully from writing violent escapist fantasies to serious, meditative novels focused on love, guilt, aging, and la condition humaine. He did not like being compared to Ernest Hemingway, but the comparison was an obvious one. Like Hemingway, Jim Harrison was a masculine writer, sophisticated and intellectual, but fundamentally and always an outdoorsman. Like Hemingway, Harrison was a romantic and a stoic, whose fiction was preoccupied with acute and intelligent observation in the course of living up to a demanding and aristocratic code.
The novelist Thomas McGuane was Harrison's classmate at Michigan State, and Jim Harrison was himself the most distinguished representative of a group of rural, huntin', fishin', and shootin' writers, basically at odds with the contemporary urban community of fashion culture, which included McGuane, Russell Chatham, Guy de la Valdène, and Steve Bodio.
The New York Times obit has some great anecdotes:
His food writing, much of which first appeared in Esquire, was collected in his 2001 book, "The Raw and the Cooked," whose title invokes the anthropologist Claude Lévi-Strauss's volume of that name. Mr. Lévi-Strauss's book is about myth and ritual. Mr. Harrison's is about rituals that include his flying to France for the sole purpose of having lunch — a lunch that spanned 11 hours, 37 courses and 19 wines. …

At bottom, Mr. Harrison was not so much like Hemingway as he was like something out of Hemingway. Or, more accurately, something out of Rabelais — a mustachioed, barrel-chested bear of a man whose unapologetic immoderation encompassed a dazzling repertory:

There was the eating. Mr. Harrison once faced down 144 oysters, just to see if he could finish them. (He could.)

There was the drinking. One fine summer, he personally tested 38 varieties of Côtes du Rhône. ("It was like a small wine festival. Just me, really," he told The Washington Post afterward.) …

All these ingredients were titanically encapsulated in a dinner Mr. Harrison once shared with Orson Welles, which involved, he wrote, "a half-pound of beluga with a bottle of Stolichnaya, a salmon in sorrel sauce, sweetbreads en croûte, a miniature leg of lamb (the whole thing) with five wines, desserts, cheeses, ports" and a chaser of cocaine.
He will be missed.