28 Aug 2021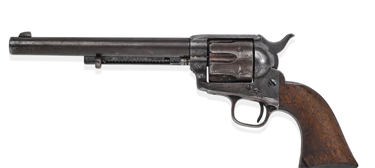 Bonham's
The Early West
The Collection of Jim and Theresa Earle
27 Aug 2021, 12:00 PDT
Los Angeles
Lot 12: JOHNNY RINGO'S COLT SINGLE ACTION ARMY REVOLVER FOUND HELD IN HIS HAND WHEN HE WAS FOUND DEAD AT TURKEY CREEK.
Serial no. 222 for 1874, .45 caliber, 7 1/4 inch barrel with single line address. Doughnut ejector. US mark on left side of frame (partially defaced), Inspectors marks on barrel. Serial number partially visible on frame and triggerguard. Number on cylinder defaced. Condition: Good. Generally no finish with traces of blue on ejector housing balance a brown patina. Toe of left grip missing. Worn grips with no visible inspectors marks. Cylinder possibly replaced. Barrel shortened through wear. A very early martially marked single action.
Provenance: Johnny Ringo, found in his hand in Morse Canyon (mentioned by serial number, containing five cartridges, in inquest document, "Statement for the information of the Coroner and Sheriff of Cochise County, A.T.," 1882); by descent to Mrs. Prigmore; to Allen Erwin (bill of sale, signed by Erwin and by Mrs. Prigmore's son Donald Wilson, on her behalf); by descent to Francis Huffstadter (signed Power of Attorney, May 2, 1979; sold European and American Firearms, Sotheby Parke Bernet, Los Angeles, 1980, to Jim and Theresa Earle.
Literature: Burrows, Jack, John Ringo: The Gunfighter Who Never Was, Tucson, 1980, p 101; Wilson, R.L., The Peacemakers, New York, 1992.
Sold for US$ 362,812 inc. premium.