23 Aug 2019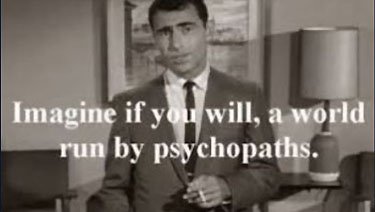 These days, I seem to keep stumbling upon items which astound and boggle the mind, provoking the thoroughly depressing reflection that the establishment of the last mid-century, so commonly criticized for materialism, conformity, and anti-intellectualism, today looking backward seemed so optimistic and healthy and rational when compared to its totally-deranged contemporary replacement.
When you read this item blithely celebrating the implausible notion that women can separate themselves from Nature and Biology by a simple exercise of existential choice, you might think that NBC News these days is recruiting its editorial talent straight out of the looney bin, but no! Dr. Marcie Bianco is "an associate editor at the Stanford Social Innovation Review. She was formerly the Editorial & Communications Manager at the Clayman Institute for Gender Research at Stanford University, where she served as editor-in-chief of the monthly newsletter, Gender News, and the annual print publication, upRising, in addition to being the founder of the Clayman Institute Feminist Journalism Writing Fellowship."
It's not just NBC News, the crazies are running Harvard, Yale, and Stanford.
Over the past week, an assortment of trending stories — from Jeffrey Epstein to the Dayton and El Paso mass shooters, to Miley Cyrus's separation and Julianne Hough's declaration that she's "not straight" — together have laid bare the strictures of an American patriarchy on the edge of a nervous breakdown. As the status quo, heterosexuality is just not working.

As a snapshot of 2019 America, these stories present a startling picture: Men continue to coerce, harass, rape and kill girls and women — and go to extreme lengths to avoid responsibility for their actions. On the other side of the issue, girls and women are challenging heterosexuality, and even absconding from it altogether.

Framed differently, the picture is this: Men need heterosexuality to maintain their societal dominance over women. Women, on the other hand, are increasingly realizing not only that they don't need heterosexuality, but that it also is often the bedrock of their global oppression.

Patriarchy is at its most potent when oppression doesn't feel like oppression, or when it is packaged in terms of biology, religion, or basic social needs.

Patriarchy is at its most potent when oppression doesn't feel like oppression, or when it is packaged in terms of biology, religion or basic social needs like security comfort, acceptance and success. Heterosexuality offers women all these things as selling points to their consensual subjection.

Historically, women have been conditioned to believe that heterosexuality is natural or innate, just as they have been conditioned to believe that their main purpose is to make babies — and if they fail to do so, they are condemned as not "real," or as bad, women.

Celebrities are not always at the vanguard of feminist thought, but both Julianne Hough and Miley Cyrus have recently spoken out about sexuality in ways that puts the power — and responsibility — back into their own hands.
What can one possibly say? If heterosexuality has really stopped working, we obviously don't have much to worry about, since in ten decades or so, there will simply be no more people at all.