28 Aug 2020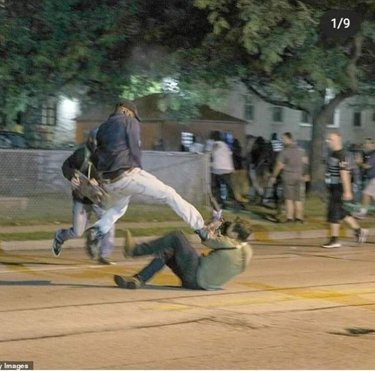 Does that look like First Degree Murder to you?
Zman is ranting, and it's perfectly understandable.
Kenosha Wisconsin has now become the pivot point for the revolution from above being waged on middle America. Riots have convulsed the city for three nights since a violent black rapist was shot by police after resisting arrest. Large swaths of the city have been burned as the mayor cheered on the rioters. This led to the shooting of three rioters by a 17-year old kid, who volunteered to help defend the property owners. The video of the incident has become a world-wide sensation.

Of course, this being Jim Snow America, the white kid is now charged with capital murder and faces life in prison. White people who kill in self-defense get charged with capital murder, while blacks who kill for sport are allowed to go free. You see, the former is exercising white privilege and is guilty of being white. The latter, on the other hand, is the victim of white privilege and is justifiably angry. In post-reality America, privilege means being stripped of your rights and dignity.

If Kyle Rittenhouse was a black or an immigrant from the third world or even a transexual, he would not be in jail right now. He would be held up as a hero by the mainstream media. President Trump would send Air Force One to bring him to Washington for a special ceremony. Speakers at the RNC convention would be told to mention his name in their speeches. He is white, so no one at the convention will mention his name. They have not mentioned Cannon Hinnant either.

Unlike other cases where the media can suppress the truth while spreading lies, this time the truth was all over the internet before the media could act. As soon as it happened, social media had video of the attack on Rittenhouse. He fell to the ground as violent criminals attacked him and he opened fire on them. There can be no narrative in which he is the villain. He may have been naive, but he was simply following the civic nationalist code and doing what he thought was his duty.

This is Jim Snow America. A white kid following the rules is guilty, no matter what the facts say, so he sits in prison. His family started a defense fund on Go Fund Me, but it was immediately taken down. Again, in Jim Snow America, whites are not allowed to avail themselves of the resources for self-defense. The system will now wage war on this kid's family in order to prevent them from defending their son. In Jim Snow America, white people just have to take it.

It is an infuriating reality, for sure. In a better world, the mayor of Kenosha would already be swinging from a tree.
It's actually been this way for decades in every major metropolitan area. A career criminal shooting an innocent victim provokes a yawn, and his crime gets cursorily processed and plea bargained down. A middle-class white person shoots a criminal and, the system goes into high gear, throwing the book at him.
It's past time for things to change.