19 Jun 2019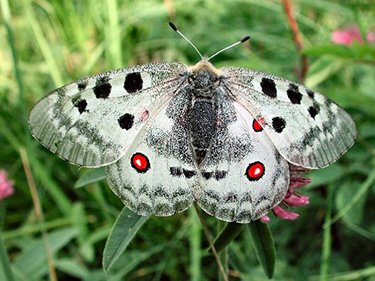 Clouded Apollo (Parnassius apollo siciliae)
The Spectator has an excerpt from Eric Newby's
Love and War in the Appenines:
I took off my rucksack and lay down in a grassy hollow at the edge of the cliff. The sun was hot and soon I took off my shirt and then my boots and socks. The air was filled with the humming of bees and the buzzing of insects and from somewhere further up the mountain there came the clanking of sheep bells, carried on a gentle breeze that was blowing from that direction. Then a single bell began to toll in the valley, and other more distant bells echoed it, but they soon ceased and I looked across to the distant peaks which previously had been so clearly delineated but were now beginning to shimmer and become indistinct in the haze that was enveloping them. And quite soon I fell asleep.

I woke to find a German soldier standing over me. At first, with the sun behind him, he was as indistinct as the peaks had become, but then he swam into focus. He was an officer and he was wearing summer battledress and a soft cap with a long narrow peak. He had a pistol but it was still in its holster on his belt and he seemed to have forgotten that he was armed because he made no effort to draw it. Across one shoulder and hanging down over one hip in a very unmilitary way he wore a large old-fashioned civilian haversack, as if he was a member of a weekend rambling club, rather than a soldier, and in one hand he held a large, professional-looking butterfly net. He was a tall, thin, pale young man of about 25 with mild eyes and he appeared as surprised to see me as I was to see him, but much less alarmed than I was, virtually immobilized, lying on my back without my boots and socks on.

'Buon giorno,' he said, courteously. His accent sounded rather like mine must, I thought. 'Che bella giornata.'

At least up to now he seemed to have assumed that I was an Italian, but as soon as I opened my mouth he would know I wasn't. Perhaps I ought to try and push him over the cliff, after all he was standing with his back to it; but I knew that I wouldn't. It seemed awful even to think of murdering someone who had simply wished me good day and remarked on what a beautiful one it was, let alone actually doing it. If ever there was going to be an appropriate time to go on stage in the part of the mute from Genoa which I had often rehearsed but never played, this was it. I didn't answer.

'Da dove viene, lei?' he asked.

I just continued to look at him. I suppose I should have been making strangled noises and pointing down my throat to emphasize my muteness, but just as I couldn't bring myself to assail him, I couldn't do this either. It seemed too ridiculous. But he was not to be put off. He removed his haversack, put down his butterfly net, sat down opposite me in the hollow and said: 'Lei, non e Italiano.'

It was not a question. It was a statement of fact which did not require an answer. I decided to abandon my absurd act.

'Si, sono Italiano.'

He looked at me, studying me carefully: my face, my clothes and my boots which, after my accent, were my biggest give-away, although they were very battered now.

'I think that you are English,' he said, finally, in English. 'English, or from one of your colonies. You cannot be an English deserter; you are on the wrong side of the battle front. You do not look like a parachutist or a saboteur. You must be a prisoner-of-war. That is so, is it not?'

I said nothing.

'Do not be afraid,' he went on. 'I will not tell anyone that I have met you, I have no intention of spoiling such a splendid day either for you or for myself. They are too rare.