01 May 2021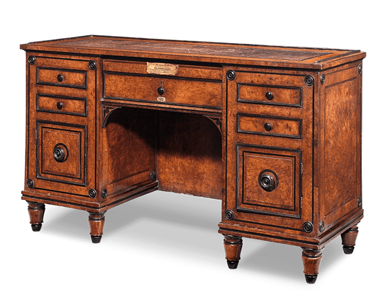 M.S. Rau Antiques has quite a historical object for sale:
"This exceptional Regency desk was specially crafted for one of the most legendary men in Western history, Napoléon Bonaparte. Commissioned by the British government for Napoléon's personal use during his exile on the island of St. Helena, the exceptionally rare relic was crafted by George Bullock, one of the most important British cabinetmakers of the 19th century. Absolutely extraordinary in both provenance and craftsmanship, a piece of furniture of this incredible importance is rarely seen on the market.
When Napoléon was exiled to St. Helena in 1815, an order was issued by King George IV (then the Prince Regent) that the former Emperor "should be furnished in his banishment with every possible gratification and comfort." It was thus that the renowned George Bullock was commissioned to create a group of furniture that was relatively unadorned, yet befitting Napoléon's former status. This stately, masterfully crafted desk was among them and resided in Napoléon's own bedroom during his six years on the remote island. He spent much of his remaining time writing his memoirs, many of which would have been penned on this very desk. Told in his own words, the story of his life became the single best-selling book of the 19th century.
One of the most recognizable names in the world, Napoléon's rapid rise to power and equally swift downfall continues to fascinate almost 200 years after his death. Rising to prominence during the French Revolution, it was his genius as both a tactician and a statesman that won him the crown of Emperor of the French. Yet, his eventual defeat at the hands of the Coalition Forces – Great Britain, Russia, Spain, Portugal, Prussia, Austria, Sweden, and the German States – leading to his banishment on the remote island of St. Helena. One of France's most legendary figures, mementos belonging to the famed Emperor are highly coveted. This exceptional desk, crafted by one of the greatest names in British furniture for one of the greatest leaders of the modern age, is particularly extraordinary.
George Bullock began his career as a modeler and sculpture artist in Liverpool before moving to London in 1812. It is unclear what prompted his move into furniture design, though it seems to have been a natural transition considering his prowess for line and form. The superior quality of his work soon made him very successful and sought after for special commissions, the most prestigious of which was supplying furniture for the exiled Emperor Napoléon on St. Helena.
A plaque on the desk's front reads: "This console table / was used for the toilet of / the Emperor Napoleon / in his bedroom at St. Helena during his exile / rr … (f) … Count de las Casas' plan of Longwood House"
Circa 1815
32″ high x 54″ wide x 19 1/2″ deep
Provenance:
Supplied in 1815 for use on St. Helena by Napoléon in Longwood House
Recorded by Comte de Montholon in the inventory taken following Napoléon's death in 1821
Sir Hudson Lowe, 1821
John Copling, 1844
Private collection, 1867
Anonymous sale, Christie's London, July 1989
Private collection, United Kingdom
Anonymous sale, Christie's London, November 2003
M.S. Rau Antiques, New Orleans
Private collection, Texas
M.S. Rau Antiques, New Orleans
Exhibited:
London: World City 1800-1840, Villa Hügel, Essen, June -November 1992
Literature:
London: World City 1800-1840, Exhibition Catalogue, 1992, by C. Fox, pp. 410-411
"Napoleon and George Bullock" in Furniture History, 1998, by M. Levy, p. 21 and p. 91″
"Price on request" meaning: "You can't afford it!"