17 Aug 2015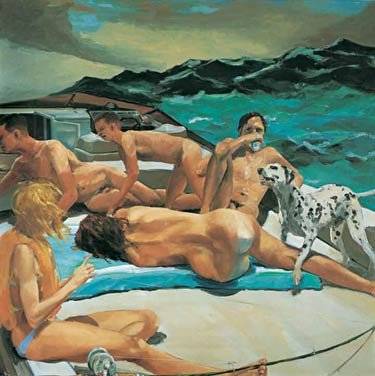 Eric Fischl, The Old Man's Boat and the Old Man's Dog, 1982. –Our time's version of The Raft of the Medusa.
John D. Davidson reviews Mario Vargas Llosa's just-released
Notes on the Death of Culture, a must-read pessimistic essay discussing the West's rate of decline since 1948 (the year of my birth) and our civilization's gloomy prospects for the future.
In his 1948 essay, Notes Towards the Definition of Culture, T.S. Eliot argued that the highest levels of culture are only attainable by relatively small groups of people, and that in order for a civilization to sustain high culture a class system of some kind is necessary. Because culture is transmitted primarily through the family and religion—not schools—and because it relies to a large extent on these particular loyalties for its perpetuation, when these institutions fail, "we must expect our culture to deteriorate."

At the risk of over-simplifying Eliot's argument, one of his basic contentions sounds rather old-fashioned, perhaps even bigoted by today's standards, that "we can distinguish between higher and lower cultures; we can distinguish between advance and retrogression." This notion flies in the face of multiculturalism, not to say the notion of equality. Yet it's a necessary premise for his assessment of the state of contemporary culture:

"We can assert with some confidence that our own period is one of decline; that the standards of culture are lower than they were fifty years ago; and that the evidences of this decline are visible in every department of human activity. I see no reason why the decay of culture should not proceed much further, and why we may not even anticipate a period, of some duration, of which it is possible to say that it will have no culture."

According to Peruvian writer and Nobel laureate Mario Vargas Llosa, the culture-less period foreseen 67 years ago by Eliot is the one in which we are all now living.