17 Jan 2022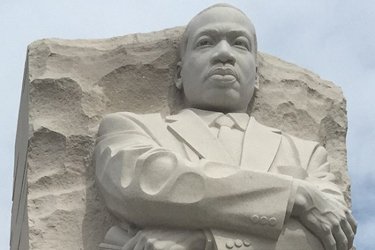 Vince Everett Ellison demonstrates that not all African Americans buy into the MLK myth.
After finding evidence that the "man of God" and "moral conscience of our nation," the Rev. Dr. Martin Luther King, Jr., participated in the rape of a parishioner, engaged in numerous sex orgies, received cash payments from known communists, and admitted that he was a Marxist, King biographer and Pulitzer Prize-winning author David Garrow wrote of King, "There is no question that a profoundly painful reckoning and reconsideration inescapably awaits."

Black Democrats and White liberals rail about the gains derived from the Civil Rights Movement. I ask, "What gains?" If murder, poverty, and mass incarceration are gains, you may have a point. In an attempt to make him untouchable, liberals have protected King's counterfeit legacy by sealing his FBI files until 2027. Nevertheless, his reckoning is here.

But that reckoning shouldn't occur exclusively because of King's immoral behavior. It shouldn't happen because the "Good Reverend's" best friend, Ralph Abernathy, in his book And the Walls Came Tumbling Down, described King beating a woman and sleeping with two others at the Lorrain Motel the night before his death. Or because Arthur Schlesinger recorded Jackie Kennedy saying he was "terrible, phony, and tricky." Or that Black Major League Baseball player Don Newcombe reported to the FBI that King was a "drunk" and had an illegitimate child by a woman married to a sterile Los Angeles dentist. Or because King allowed the dirty world of politics to turn the Black church into a puppet of the atheist and racist Democrat party.

No. This reckoning should happen because Rev. Dr. Martin Luther King and the Civil Rights Movement have failed Black people. They managed only to elect many Black Americans into office, with most of them belonging to the same evil Democrat party that had necessitated the Civil Rights Movement by enslaving, raping, castrating, and oppressing Black Americans for over one hundred and fifty years.

After fifty years of following King's failed ideology, consider these results. On June 4, 2020, the Washington Post reported "no decrease in Black and White citizens' wealth gap since 1968." The Brookings Institution reported that in 1965, only 24% of Black children were born out of wedlock. In 2020, it was 69.4 (approximately a 300% increase). Between 2019 and 2020, Blacks made up 11% of the population but 50% of all murders. In May 2019, Penn State and UCLA reported that school segregation is getting worse.

This is King's legacy. Why are we celebrating it?

In explaining how to recognize a false prophet, Jesus said, "A tree is known by the fruit it bears." He said you cannot get bad fruit from a good tree. The fruits of the Black community, almost unanimously, are rotten to the core.

What good has come from Martin Luther King's movement for Black America? The American Black community is at the bottom of nearly every socio-economic statistic. The Black family is weaker. The Black church is more apostate. The Black economy is nonexistent. Black government is corrupt. Black education is terrible. Are we celebrating failure, or was this their intention?