29 May 2012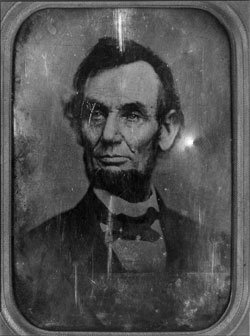 Some claim that Abraham Lincoln descended from a Melungeon family via his mother, Nancy Hanks.
Abraham Lincoln, Elvis Presley, Ava Gardner, Loretta Lynn and George C. Scott, Tom Hanks and Heather Locklear, and Steve Martin are all alleged by some sources to have Melungeon ancestry.
The Melungeons are an ethnic group, commonly described as a "tri-racial isolate," resident in the Cumberland Gap neighborhood of Eastern Tennesee, Southwest Virginia, and Eastern Kentucky. The Melungeons' comparatively dark complexions and other exotic characteristics have been attributed to mixed Amerindian and Spanish or Portuguese descent. Other alleged origins included shipwrecked Turkish slaves or descent from Gypsies. One legendary account claims that they descend from a native people resident before the arrival of European colonists.
Recent research seems to offer a much simpler explanation: descent from African freedmen.
[A] new DNA study in the Journal of Genetic Genealogy [Not apparently yet available on-line] attempts to separate truth from oral tradition and wishful thinking. The study found the truth to be somewhat less exotic: Genetic evidence shows that the families historically called Melungeons are the offspring of sub-Saharan African men and white women of northern or central European origin.