11 Apr 2015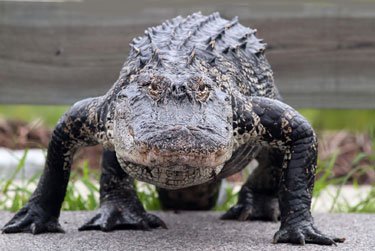 When Pennsylvanians refer to an "Allegheny alligator," they normally mean Necturus maculosus, a foot-and-a-half long dark salamander, with external, Christmas-tree-like red gills. But this week there have been two sightings reported of a real six-to-seven foot alligator (Alligator mississipiensis) in Western Pennsylvania's Monongahela River, the one which joins the Allegheny River at Pittsburgh to form the Ohio.
WPIX:
The Southwest Regional Police Department is investigating an unconfirmed sighting of an alligator in the Monongahela River in Belle Vernon, Fayette County.

Authorities said a man on a boat reported that he saw what he believed was an alligator around midnight Tuesday.

He described the animal as approximately 6 to 7 feet long, swimming upstream against the current.

"He saw what he believed to be a log, going upstream about 10 or 15 feet from the shoreline," Southwest Regional Police Chief John Hartman said. "He took his spotlight out and shined it on the log. He said he saw the head of an alligator, about 7 inches out of the water, two eyes and a tail."

Upon investigation, police determined that a possible earlier sighting of the animal was made at approximately 2 p.m. Tuesday.

"I didn't see teeth or anything. I didn't think it was an alligator or nothing," said Josh Adams.

Adams said he was applying for a job when he experienced the interesting sighting.

"After I put in my application, I went for a little walk. I seen a little duck and thought, 'Awe, that's cool,' then it went under real fast and it didn't come back up," said Adams.

Southwest Regional Police Department is working with the U.S. Coast Guard, the Pennsylvania Fish and Boat Commission and the Pittsburgh Zoo.

Neighbors said they're glad authorities are taking this seriously, because they are, too.
But how the heck could a gator survive the bitter cold winter we just had in Pennsylvania?