09 Jun 2016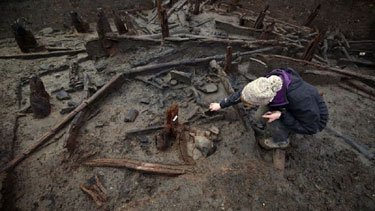 Charlotte Higgins, in the New Yorker, describes a 3000-year-old archaeological site near Peterborough where Bronze-Age round houses on piles were abandoned due to a sudden fire that burned pilings and dropped houses and their contents into a river thus preserving their contents and consequently offering an extraordinary picture of ordinary daily life in Britain 1000 years before the Roman Invasion.
[F]rom time to time, the soil pushes up clues, particularly in the fens, where the waterlogged earth creates anaerobic conditions that slow decay. One summer day in 1999, a local archeologist was walking at Must Farm, along the edge of a disused clay pit; at one time it was filled with water, but the water level had dropped enough to reveal some wooden stakes poking out. The Cambridge Archaeological Unit, which operates out of the university, an hour's drive away, did some exploratory work and found, through radiocarbon dating, that the material dated from about 900 B.C. The site was monitored for several years, until Historic England, a government agency devoted to preserving the country's heritage, began to press for it to be properly excavated. Last September, with funding from Historic England and the brick-making company Forterra, a team of about a dozen archeologists went to work.

Each day, they are making discoveries that are radically expanding the knowledge of Bronze Age Britain. The site is unparalleled in the U.K. for its wealth of artifacts and the pristine state of their preservation. Three thousand years ago, it was a settlement of wooden roundhouses, but life there ended abruptly: a fire tore through it, and the buildings collapsed, sank into the marshland, and were quickly entombed by silt and mud. "In archeology, very occasionally, there is the feeling that you have turned up just a week too late, that the people who were here have just moved on," Mark Knight, the archeologist in charge of excavation at Must Farm, told me when I visited for a day in April. "This site has that feeling to it. Normally in Britain, when you dig, three thousand years of history seems manifest in the remains, because the most you tend to find is a few postholes and a potsherd. Here, somehow, the time span feels short. It's so intact, so three-dimensional." Inevitably, perhaps, the site has been nicknamed the Pompeii of Peterborough.
Read the whole thing.