12 Sep 2020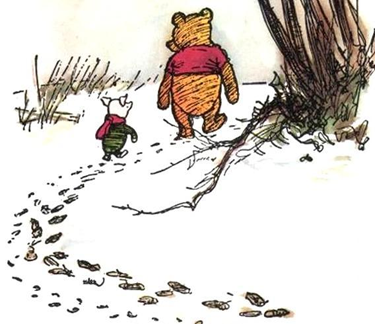 Helen Dale's review of Helen Pluckrose and James Lindsay's Cynical Theories: How Activist Scholarship Made Everything about Race, Gender, and Identity in The Critic is a Must-Read item analyzing the real content of the Critical Theory rubbish that has recently come to dominate the American intellectual establishment.
At one point in Winnie-The-Pooh, Pooh and Piglet start to follow footprints in the snow. The pair think they belong to a creature called a "Woozle". The tracks keep multiplying, and the two become increasingly confused, until — finally — Christopher Robin explains they've been following their own tracks in circles around a tree, and that Woozles aren't real.

These days, if you go to university to read humanities and some social sciences — notably psychology and sociology — you'll find yourself retracing Pooh and Piglet's steps, hunting for Woozles that aren't there.

You will encounter radical scepticism about whether objective knowledge or truth is obtainable, along with a commitment to the notion that real things — like sex and race — are culturally constructed. Your lecturers will impress upon you the idea that society is formed into identity-based hierarchies and knowledge is an effect of power. Your position on a league-table of oppressed identities determine what can be known and how it is known. If you disagree you will at least be marked down, and sometimes formally disciplined. Worse, there is no Christopher Robin to save you. It's Woozles all the way down, and don't you dare dissent. …

The shift from "it's immoral to tell another culture's story" to "it's impossible to tell another culture's story, but in any case, one shouldn't try for moral reasons" is part of a process Pluckrose and Lindsay describe as "reification", which emerged after I'd left the ivory tower and commenced moving companies around and drafting commercial leases for a living. Once reified, postmodern abstractions about the world are treated as though they are real things, and accorded the status of empirical truth. Contemporary social justice activism thus sees theory as reality, as though it were gravity or cell division or the atomic structure of uranium.

The correspondence theory of truth holds that objective truth exists and we can learn something about it through evidence and reason. That is, things are knowable and we gain reliable information about them when our beliefs align with reality. It's termed "the correspondence theory of truth" because a statement is considered true when it corresponds with reality and false when it doesn't. Reality, of course, is the thing that does not change regardless of what you believe.

While advanced civilisations going back to classical antiquity employed this reasoning in selected areas (Ancient Rome to civil engineering and law, for example, or Medieval China to public administration), it's only since the Enlightenment that it's been applied consistently to nearly everything, at least in developed countries. It forms the foundation of modern scientific and administrative progress and accounts in large part for the safety and material comfort we now enjoy.

Reified "Theory" is no more and no less than a rejection of the correspondence theory of truth. There are no universal truths and no objective reality, only narratives expressed in discourses and language that reflect one group's power over another. Science has no claim on objectivity, because science itself is a cultural construct, created out of power differentials, and ordered by straight white males. There are no arguments, merely identity showdowns; the most oppressed always wins.

And, because language makes the world, attempts by scholars in other disciplines and from across the political spectrum to do what I did and falsify Theory's empirical claims are met not with reasoned debate but an accusation that those individuals are harming the oppressed or silencing the marginalised, because all someone higher up the hierarchical food chain is supposed to do when confronted by someone lower down is listen. That's the point of telling people to "check their privilege" before they open their mouths.