25 Aug 2016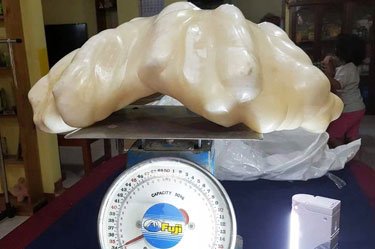 A fisherman in the Philippines is happy as a clam after discovering that a mammoth pearl he stashed away for 10 years under his bed is worth a cool $100 million.

The lucky angler, who has not been identified, discovered the 75-pound pearl — believed to be the biggest ever — in the sea off Palawan Island, the Mirror of the UK reported.

Unaware of the giant pearl's value, he kept it as a good-luck piece under his bed until a fire in his home forced him to move. The superstitious fishermen then decided to hand it over to the tourism office in remote Puerto Princesa, city officials said.

A stunned tourism officer determined that the pearl, measuring a foot wide and 2.2 feet long, dwarfs the official current record holder — the $35 million, 14-pound Pearl of Allah, which in 1934 was also found off Palawan.

"The fisherman threw the anchor down and it got stuck on a rock during a storm," tourism officer Aileen Cynthia Amurao explained. "He noticed that it was lodged on a shell and swam down to pull up the anchor, and also brought the shell with him.

"He didn't know how much it was worth and kept it tucked away at home as a simple good-luck charm," she added. …

Officials plan to keep the fisherman's pearl in the Philippines in a bid to increase tourism to the area.

Giant clams, which rarely produce pearls, can grow as large as four feet in length and weigh 500 pounds. They're typically found in the South Pacific or Indian Ocean.