27 Apr 2020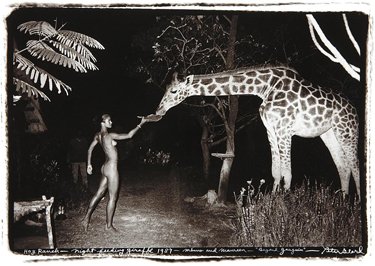 Everyone is doing Peter Beard obituaries. Here is a good one by Elsa Cau from Les Grandes Ducs. (translated from the French.)
Socialite and partygoer, artist, photographer, friend of all, lady's man, Peter Beard was a passionate and brilliant personality with many parts. He died last Sunday at the age of 80 [JDZ: Actually, Peter Beard was found dead April 19th at the age of 82, having disappeared from his Montauk house on March 31st.] leaving behind a completed oeuvre, an ode to freedom in all its forms, the self-portrait – in selected pieces – of someone wild and real.

We all know the moments. Those perfect moments, the storied instant with a good alignment of the planets, of their ideal conjunction. Put the same people in the same place, at the same time, and hold your breath, and you will still never get the same moment again. In That Summer (2017), the voiceovers of Peter Beard and Lee Radziwill tell us about such an absolute moment.

It was the Summer of 1972. In the photographer's house in Montauk, their feet in the water, they are all there, smiling, radiant: Andy Warhol, the friend with whom Beard had so much artistic interaction since the 1960s; Mick Jagger, whom he had just followed on tour for two months with the Rolling Stones for the eponymous magazine, and his wife Bianca; the tormented and flamboyant writer Truman Capote, whom he met at the same time; the sisters Lee Radziwill – an old love, a friend until the end – and Jackie Kennedy Onassis.

The almost eighty-year-old photographer lovingly flipped through the pages of the album in his studio in Montauk where he was still working until the end. "Accidents are very important," he whispered.

And accidents seems to have played a key role in the turbulent existence of Peter Beard. He was born in 1938 of blue American blood (the grandson of railroad tycoon James Jerome Hill) in New York. He was given as a child a camera which would never leave him, and which gave him his obsession with capturing those around him and his observations. A few private schools, a Yale art degree later [JDZ: actually, he was Yale Class of 1961, but never bothered to graduate.], and he's was free as air.

While still a student, he started working for Vogue. At 17, he traveled for the first time to Africa: it was love at first sight – aren't these things always an accident? He returned there regularly. It was just then, in the early 1960s, that Peter Beard became friends with Karen Blixen (authoress of Out of Africa, published under her pen name Isak Dinesen), so much so that he purchased land bordering her former farm in Kenya.

What does the youth do when he is beautiful, radiant, and rich? He lives, he loves. Peter Beard excelled at both and everyone who frequented his society has captivated memories of the man. From Studio 54 to the wilds of Kenya, Beard was one of those who feel at ease everywhere, bond with everyone with a smile, a joke, or a dance, and better, can draw you into sharing their own passions.

In the early 1960s, Beard met Dali. The two men laughed at the same pranks and quickly become friends. Around the same time, Francis Bacon became impressed by the photographs of Peter Beard published in The End of the Game, documenting the gradual disappearance of elephants, hippos and rhinos in Africa. The two men met, appreciate one another, and became close friends. These were only two examples among so many friends, there were so many.

Love, too. After his first marriage to Minnie Cushing, a pretty socialite friend and assistant to Oscar de La Renta, which lasted three years, the handsome photographer went on to so many conquests that they became clichés. Minnie still left her mark: six months without sleep, a short stay in a psychiatric hospital after an overdose of barbiturates, but then he was back on his feet. A minor incident! Candice Bergen, Barbara Allen the Warholian muse, Carole Bouquet in her James Bond period, the model Cheryl Tiegs to whom he was married for a few years, Nejma, his last wife, his unfailing support (who turned a blind eye to his other liaisons), the list goes on.

And they are also animals, essentially, Beard's women (one recalls Iman, that he was the first to discover and use as a model), it is that which he loved, that he photographed, and which inspires him. Stretched, elongated, hanging from liana vines next to antelopes, cheetahs or giraffes, with intense gazes and the deportment of queens, they are just as fundamental to his photographic work as the animals themselves. Since the early 1970s, moreover, he had united his two passions with a mixture of modified photographs, writings and collages.

But ultimately, these two passions were one: that of life. Whether he was in some remote four corner of the world, charged by an elephant (he was almost killed in 1996), being a party animal in New York, or serene and rested in his house in Montauk, he immortalized the life he observes, excitement and wildness, happiness and injustice.

"Without memory, there is no life," said Lee Radziwill in her aged, smoky voice. In 1972, the troop of friends had gone out to scout to film Big and Little Edie Bouvier Beale, respectively aunt and cousin of Lee and Jackie, American socialites, singer and dancer gently crossed out.

In their large, almost ruin of a house in the Hamptons, where they lived surrounded by cats, the gang of friends gathered for the summer running after lost time and listening to the eccentric stories of the amazing life of the two women. Stories from a bygone era, from the glorious Hamptons to the grand mansions where one was entertained and from a New York of glitter and madness, which foreshadowed the classic of the American documentary: Gray Gardens (1975).

A stroll through an era forgotten by a band of young and carefree troublemakers, in the same way that generations of lovers will stroll for a long time, together, in the pictures of Peter Beard in search of a bygone era.
Original in French here.