21 Sep 2015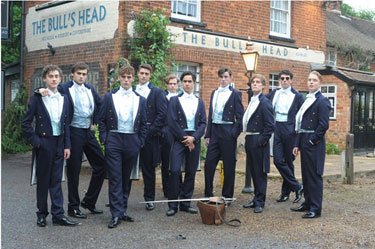 Scene from The Riot Club (2014), a film based on Oxford University's Bullingdon Club.
Decadent British undergraduate clubs are at the top of international news items today. An unauthorized biography of British PM David Cameron links him in his undergraduate days at Oxford to the posh Bullingdon Club, whose members wear a custom-tailored white-tie uniform in special club colors costing something in the neighborhood of £3,500, and (far more scandalous) the Piers Gaveston Society, named for the catamite of King Edward II.
The Tatler describes the latter club:
The Gav is theoretically men-only, and slightly camp – it's named after Edward II's lover and its motto is Fane non memini ne audisse unum alterum ita dilixisse, or 'Truly, none remember hearing of a man enjoying another so much'. The joke is it was only founded in 1977. The 12 members, a self-selecting group of good-looking former public-school boys, each invite 20 guests to the ball, ideally the most beautiful girls at Oxford. Plenty of rumpy in the bushes ensues. For last summer's debauch, guests were given only 72 hours' notice with a stiffie in their pidge (pigeonhole) and told to present themselves at a hired coach, which drove them deep into the countryside. Phones and cameras were confiscated and the location kept secret. Guests arrived to find a live sex show on a stage and a decadent dance tent.
Michael Ashcroft's forthcoming biography of David Cameron has made the news in a big way on the basis of one particular anecdote, which the Daily Mail summarized:
A distinguished Oxford contemporary claims Cameron once took part in an outrageous initiation ceremony at a Piers Gaveston event, involving a dead pig. His extraordinary suggestion is that the future PM inserted a private part of his anatomy into the animal's mouth.
The Tatler, in 2014, published a guide to secret Oxford drinking clubs.
James Delingpole, a contemporary of Cameron's at Oxford, published in 2012 a description of the ethos and activities of a variety of scandalous Oxbridge clubs, complete with photos.