19 Sep 2016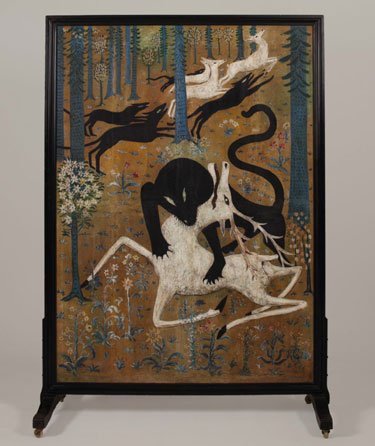 Robert Winthrop Chanler, Leopard and Deer (Death of the White Hart), 1912, Rokeby Collection, Barrytown, New York
Hyperallergenic: A new book takes a fresh look at a forgotten, but flamboyant, artist of the Gilded Age.
In one of the many licentious anecdotes from Robert Winthrop Chanler: Discovering the Fantastic, the Gilded Age artist throws a party in his Gramercy Park "House of Fantasy" so raucous that his neighbors across the street — who happen to be painter George Bellows and his family — call the cops. When an officer arrives, he is lured into in with libations, and Robert Winthrop Chanler is soon seen sporting the merry policeman's hat.

An eccentric who lived the bohemian artist lifestyle to the hilt, as well as an artist whose work was prized by the elite and celebrated in the influential 1913 Armory Show, Chanler was an icon of his time. Now his name is almost forgotten. Recent restoration of his huge plaster murals has encouraged a new appreciation for his otherworldly art, where exotic animals sketched from his own Manhattan menagerie were painted in metallic hues, often joined by cosmic shooting stars and planets. His popular double-sided screens also portrayed his own invented myths that evoked a darker side of nature.

Discovering the Fantastic, recently released by the Monacelli Press, has essays based on presentations from the 2014 Chanler symposium organized by the Vizcaya Museum and Gardens in Miami, Florida. The museum is housed in the former estate of Chicago businessman James Deering, and still has Chanler's incredible swimming pool ceiling, where shells are embedded in a plaster mural of sea creatures, alligators, and swirling waves.