07 Jun 2018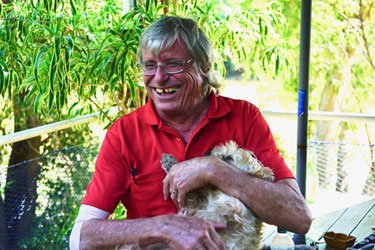 Kai Hansen with the late Pippa.
Fox News reports that, finally, the courageous little terrier lost the game.
Luck finally ran out recently for a plucky dog in Australia that became known for repeatedly chasing a crocodile back into the Adelaide River.

The dog's owner says a recent video shows that the croc "did what crocs do." It ate the pooch.

Kai Hansen, owner of the terrier, named Pippa, told Australia's ABC Radio that the dog was performing her favorite trick for a group of onlookers at the Goat Island Lodge when the tragedy occurred.

The video, captured by a spectator, shows the dog barking repeatedly while running directly at the massive reptile, before the crocodile, unfazed, whips its head back and snatches Pippa in its jaws.