10 Feb 2020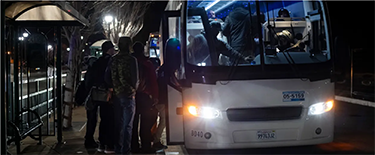 The Nomenklatura live conveniently in Atherton, Portola, or Pacific Heights, but the proletariat get to catch 2:30 AM buses to work from the 110° every day Central Valley. Protocol:
It's 2:30 a.m. in the Central California farm town of Salida, and the only sound is the tech bus pulling into an unmarked lot surrounded by barbed wire. Men and women in work boots board in the moonlight. Next stop is 11 miles away in Manteca, and then it's another 55 miles to Fremont on the San Francisco Bay, where — an hour and a half hour later — the 4 a.m. shift at the Tesla factory starts.

Welcome to life on Silicon Valley's new frontier. When tech companies first introduced private shuttles for their employees more than a decade ago, they served the affluent neighborhoods in San Francisco and the Peninsula. Now the buses reach as far as the almond orchards of Salida and the garlic fields of Gilroy.

Tech companies have grown tight-lipped about the specifics of their shuttle programs in the wake of high-profile protests in San Francisco. But Protocol was able to locate enough stops for company shuttles to confirm that some tech shuttles now drive all the way out to the Central Valley, an agricultural hub once a world away from the tech boom on the coast.

"That just tells you the story of the Bay Area," said Russell Hancock, president and CEO of regional think tank Joint Venture Silicon Valley. "We're going to be in these farther-flung places, and that's our reality because we're not going to be able to create affordable housing."

Tech shuttle sprawl speaks to the unique pressures that the industry has put on the region. High tech salaries have driven up housing prices in Silicon Valley, San Francisco and the East Bay, forcing white- and blue-collar workers alike to move farther away from their jobs. The crisis is compounded by anti-development politics that make it hard to build new housing and patchwork public transit systems that make it difficult for commuters to get to work without driving.

The mismatch between jobs and housing has become so extreme that Google and Facebook have proposed building thousands of apartments or condos on their own campuses.

In the meantime, those companies — plus Tesla, Apple, Netflix, LinkedIn, Genentech and others — are trying to solve the problem with long-distance buses. They all now offer shuttle service to at least the extended suburbs of the East Bay, according to interviews and reports Protocol consulted. Their longest routes now stretch north across the Golden Gate Bridge, south to the surf town of Santa Cruz, and east to the Central Valley — a total service area approaching 3,000 square miles.