30 Apr 2015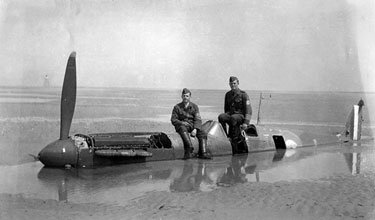 German soldiers sitting on the wreckage of Spitfire P9374, May, 1940.
One of the first Spitfires ever made has gone up for sale for a staggering £2.5 million after spending 40 years buried in sand at the French beach it crashed on.

The iconic Mark 1 plane was among the first built in March 1940 as Britain scrambled to ready itself for the epic battle that took place in the skies just a few months later.

But Spitfire P9374 never made it to the Battle of Britain as it crash-landed in May 1940.

The fighter plane was being piloted by Flight Officer Peter Cazenove over Dunkirk when it was hit by a single bullet from a German Dornier bomber.

Cazenove, an Old Etonian flying his first combat mission, had no choice but to bring it down on the wet sands at Calais.

Cazenove was captured by the Nazis and taken to the Stalag Luft III prisoner of war camp, famous for 'The Great Escape'.

His plane became consumed by the sandy beach and there it remained for the next 40 years.

In 1980 the wreckage was discovered when part of it was spotted poking out from its sandy grave.

It was corroded and covered in barnacles but amazingly still in tact. The plane was dragged from the beach and taken to the Mus e de l'Air in Paris.

Eventually it was bought by American billionaire philanthropist Thomas Kaplan, who has had the plane meticulously restored to its original condition by a team of expert engineers.

Mr Kaplan, an Oxford-educated gold trader, owns both of the surviving Mk1 Spitfires.

He has now listed the plane Cazenove piloted for sale through London auctioneers Christies 75 years since the Battle of Britain with an estimate of £2.5 million.

He plans to donate the proceeds to the RAF Benevolent Fund and wildlife charity Panthera.
—————————————————-
Don't miss the grand presentation, complete with videos, from Christie's.