09 Mar 2021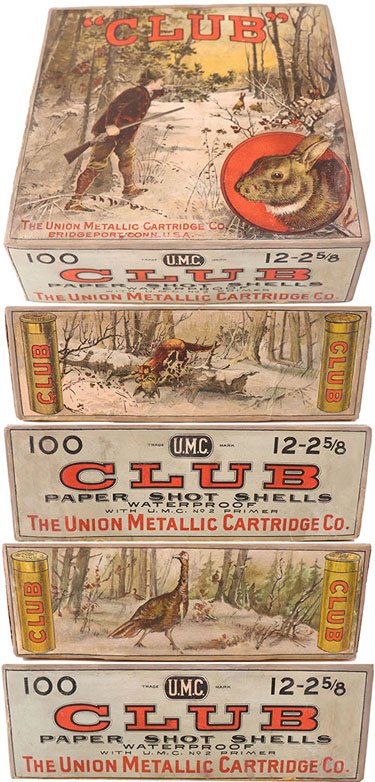 Ward's Auctions Item 10010 "CHRISTMAS BOX!!! UMC, "CLUB", 12 Gauge, 2 5/8" … "VERY DIFFICULT TO FIND AND COVETED BY COLLECTORS!!! Grade: Excellent ++ – Value: 20000 to 50000"
It takes all kind of people to make a world and different people naturally have different hobbies and collecting interests.
Still, a number of us gun nuts were frankly astounded when one discussion group member passed along a link to the above auction lot.
This item is an old-time Christmas edition box that contained 100 2 5/8″ 12 gauge Union Metallic Cartridge Company shotgun shells, the equivalent of four normal boxes. 2 5/8″ length 12 gauge is a lighter chambering more commonly found in English-made double-barrel shotguns and in very old American guns. The usual modern American chambering is 2 3/4″.
This box was empty. The buyer got no shotgun shells. It had been "professionally restored," and sealed and was filled with "NPE" — whatever that is.* The box doesnt even tell you how many drams of powder those shells were loaded with, or what size shot they contained. I assume they must have been Number 6 shot. It sold for –hold onto your seat!– $22,000.00 plus a 15% buyer premium, a total of $25,300.00. Wow!
The sporting scenes on the top and sides of the box are nice examples of nostalgic Americana, dating, I'd estimate, from circa 1910 to 1920.
I knew that there were folks out there who collected cartridges and others who collected period sporting advertising. I'm not surprised to find that there are people who'd like to own this empty shotgun shell box, but I find the price this thing went for downright astounding. You could obviously go right out a buy a nice Purdy shotgun for that kind of money, which seems obviously a lot better than an empty box.
I guess this one must be essentially the Holy Grail of shotgun shell boxes.
———————–
* Correction: "NPE" is "new primed empty." And it does contain shotgun shells, just empty, already primed ones, that you could load with powder and shot yourself. That explains why no dram measurements or shot sizes.
I had no idea that, back then, they sold shotgun shells in this form.