11 Dec 2019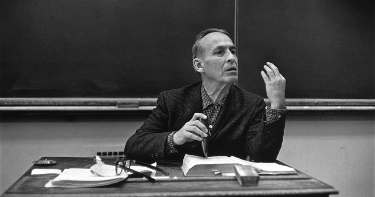 Rebecca McCarthy, as teen-age girl, got to meet and talk with the great Norman Maclean, author of A River Runs Through It.
John and I were riding around Seeley Lake when we turned down the narrow driveway to Norman's cabin. John made a habit of checking on the older summer people, and today was Norman's day.

The cabin was on a knoll overlooking the water. There were tamaracks all around it. As we approached the door, I could hear someone inside humming. Before John could knock, Norman opened the door, smiling, inviting us in. He stepped into the kitchen, took the lid off a Crock-Pot, and stirred whatever he was cooking, releasing a delicious, meaty aroma. He herded us onto the screened porch, then disappeared, humming as he walked. A few minutes later, he returned with two tumblers half full of something brown, handed one to John and one to me, then went back inside for his glass. He sat down in a chair near me and began to talk.

"Rebecca, this is Scotch on the rocks. Before dinner, you can drink Scotch or bourbon, with ice or water or club soda. With a twist of lemon in the Scotch if you like. Or you can have a glass of sherry.
"A Tom Collins, a gin and tonic, those are drinks for you and your boyfriend after a game of tennis. Not before a meal. With food, you can have wine. And after a meal, you can have another glass of Scotch or bourbon. Or a sherry. Or a cordial, maybe brandy. That's it, darling, those are your choices."

I looked at the Scotch in my glass. I was 16, and I had never had a real drink. The Scotch smelled and tasted like lighter fluid, but I managed to swallow a little without choking. It went straight up my nose, setting my nasal passages on fire. Norman was complaining to John about some clear-cutting bastard who needed his testicles removed. From my brother's response, I realized that the bastard was the ranger who lived next door to us, who I had thought was a nice man. I looked around the porch. There were two beds against one wall and a few chairs and tables. I drank some more Scotch and closed my eyes, then opened them and gulped down the rest of the drink.

"Rebecca, darling, I'll get that," Norman said as he took my glass away. He soon returned with more Scotch. I made it about halfway through the second drink before getting up and lying down on one of the beds.