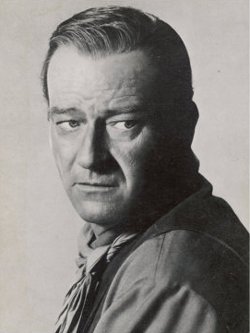 Heritage Auctions is selling some of the famous actor's personal effects and papers in Los Angeles in a sale ending October 6-7th.
I have glanced through some of the catalogue, and there is some fascinating stuff: costumes, hats, and even scripts from famous movies, including his eye patch from True Grit, a tweed overcoat from The Quiet Man, a Marine Corps uniform from Sands of Iwo Jima . There are letters from Jimmy Stewart, Frank Sinatra, Ronald Reagan, and John F. Kennedy, and some very amusing letters from director John Ford, full of bawdy humor. They are even selling Wayne's driver's license and American Express card.
Lot 44129 is kind of interesting. It seems that, in 1977, just two years before his death, The People's Almanac sent Wayne (along with other winners of the Academy Award) a poll questionnaire asking "who were and are the 5 best motion picture actors of all time…(and)…the 5 …best motion pictures of all time."
John Wayne wrote down, as his list of actors: "1) Spencer Tracy 2) Elizabeth Taylor 3) Kathrine [sic] Hepburn 4) Laurence Olivier 5) Lionel Barrymore," as his list of movies: "1) A Man for All Seasons 2) Gone with the Wind 3) The Four Horsemen of the Apocalypse 4) The Searchers 5) The Quiet Man."
The lot includes the actual handwritten lists, signed by John Wayne, and is currently bid at $800.
I thought it was odd that John Wayne shared the fashionable critics' high regard for The Searchers, among his own films. I would argue strenuously myself that She Wore a Yellow Ribbon featured his most impressive all-time job of acting.