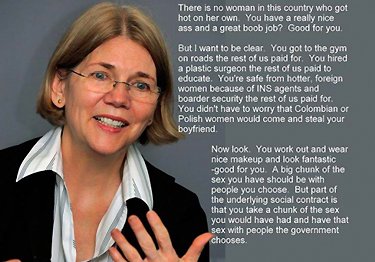 George Will explains that Elizabeth Warren's version of social contract theory really constitutes the elite's attempt to substitute a forged IOU entitling them to rule.
Warren's statement is a footnote to modern liberalism's more comprehensive disparagement of individualism and the reality of individual autonomy. A particular liberalism, partly incubated at Harvard, intimates the impossibility, for most people, of self-government — of the ability to govern one's self. This liberalism postulates that, in the modern social context, only a special few people can literally make up their own minds. …

Many members of the liberal intelligentsia, that herd of independent minds, agree that other Americans comprise a malleable, hence vulnerable, herd whose "false consciousness" is imposed by corporate America. Therefore the herd needs kindly, paternal supervision by a cohort of protective herders. This means subordination of the bovine many to a regulatory government staffed by people drawn from the clever minority not manipulated into false consciousness.

Because such tutelary government must presume the public's incompetence, it owes minimal deference to people's preferences. These preferences are not really "theirs," because the preferences derive from false, meaning imposed, consciousness. This convenient theory licenses the enlightened vanguard, the political class, to exercise maximum discretion in wielding the powers of the regulatory state.

Warren's emphatic assertion of the unremarkable — that the individual depends on cooperative behaviors by others — misses this point: It is conservatism, not liberalism, that takes society seriously. Liberalism preaches confident social engineering by the regulatory state. Conservatism urges government humility in the face of society's creative complexity.

Society — hundreds of millions of people making billions of decisions daily — is a marvel of spontaneous order among individuals in voluntary cooperation. Government facilitates this cooperation with roads, schools, police, etc. — and by getting out of its way. This is a sensible, dynamic, prosperous society's "underlying social contract."
Read the whole thing.