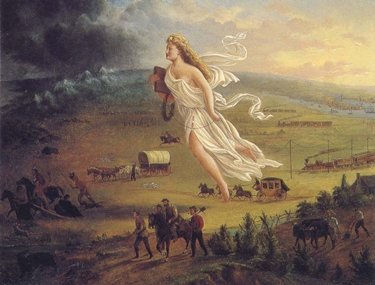 John Gast, American Progress (and other titles), 1872, most frequently seen in chromolithograph form inside cigar boxes.

Walter Russell Mead starts a new insightful essay which argues that the Progressive, Blue State-politics ideas revolving around suburbia, a manufacturing economy, a constantly-expanding regulatory regime and welfare state pertain to rapidly vanishing world, destined to follow the Indians and the buffalo, and the family farm and homestead into America's past.
The frustration and bitterness that fills American politics these days reflects the failure of our current social, political and economic institutions and practices to deliver the results that Americans want and expect. It's comparable to the frustration and fear that swept through the country in the late 19th and early 20th century as the first American dream – that every family could prosper on its own farm – gradually died….

Our political battles today reflect the same kinds of frustrations we saw in the old populist era. Many cannot fathom another and "higher" form of the American Dream beyond the old crabgrass utopia. They want to turn back the clock and restore the old system because they don't know of anything else that will work. …

It is, of course, a very similar situation today. The forces ripping up our old social model are too powerful to beat. That is not because the rich bankers or global multinationals are engaged in a conscious conspiracy of rip-offs and oppression (though, frankly speaking, big business does sometimes engage in exactly that). It is because the forces ripping up the social model are deeply implanted in the nature of the economic system — and that system is a reflection of the propensities in human nature which we cannot and perhaps should not overcome.

There is another important similarity, one often overlooked in the pessimism, anger and anxiety provoked by the inexorable decline of the "blue social model" that shaped America in the 20th century — just as it was overlooked 100 years ago.
Read the whole thing.