19 Jan 2016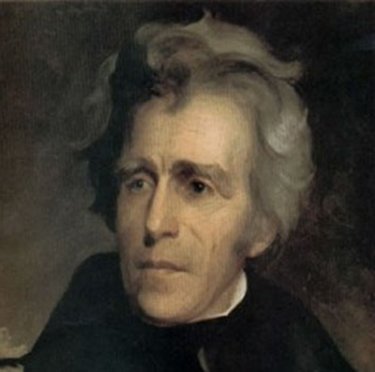 Old Hickory
Walter Russell Mead warns that a spectre is haunting the election of 2016, the spectre is that of no less than Andrew By God! Jackson, and the Locofocos are again challenging the rule of the Bank and the Urban Elites.
Not since he fought with Nicholas Biddle over the future of the Bank of the United States has Andrew Jackson been this controversial or this central in American political life. Jacksonian populism, the sense of honor-driven egalitarianism and fiery nationalism that drove American politics for many years, has never been hated and reviled as often as it is today, and many American academics and intellectuals (to say nothing of Hollywood icons) are close to demanding that Jacksonian sentiment be redefined as a hate crime.

For President Barack Obama and his political allies in particular, Jacksonian America is the father of all evils. Jacksonians are who the then Senator had in mind when, in the campaign of 2008, he spoke of the 'bitter clingers' holding on to their guns and their Bibles. They are the source of the foreign policy instincts he most deplores, supporting Israel almost reflexively, demanding overwhelming response to terror attacks, agitating for tight immigration controls, resisting diplomacy with Iran and North Korea, supporting Guantanamo, cynical about the UN, skeptical of climate change, and willing to use 'enhanced interrogation' against terrorists in arms against the United States. …

The hate and the disdain don't spring from anything as trivial as pique. Historically, Jacksonian America has been the enemy of many of what President Obama, rightly, sees as some of America's most important advances. …

Virtually everything about progressive politics today is about liquidating the Jacksonian influence in American life. From immigration policy, touted as ending the era when American whites were the population of the United States, to gun policy and to regulatory policy, President Obama and his coalition aim to crush what Jacksonians love, empower what they fear, and exalt what they hate. …

What we are seeing in American politics today is a Jacksonian surge. …

Donald Trump, for now, is serving as a kind of blank screen on which Jacksonians project their hopes. Proposing himself as a strong leader who 'gets' America but is above party, Trump appeals to Jacksonian ideas about leadership. Trump's Jacksonian appeal has left the Republican Party in deep disarray, demonstrating the gulf between contemporary conservative ideology and Jacksonian nationalism. Indeed, one of the reasons that Trump hasn't been hurt by attacks that highlight his lack of long term commitment to the boilerplate conservative agenda (either in the social or economic conservative variant) is that Jacksonian voters are less dogmatic and less conservative than some of their would-be political representatives care to acknowledge. …

Whatever happens to the Trump candidacy, it now seems clear that Jacksonian America is rousing itself to fight for its identity, its culture and its primacy in a country that it believes it should own. Its cultural values have been traduced, its economic interests disregarded, and its future as the center of gravity of American political life is under attack. Overseas, it sees traditional rivals like Russia, China, North Korea and Iran making headway against a President that it distrusts; more troubling still, in ISIS and jihadi terror it sees the rapid spread of a movement aiming at the mass murder of Americans. Jacksonian America has lost all confidence in the will or the ability of the political establishment to fight the threats it sees abroad and at home. It wants what it has always wanted: to take its future into its own hands.

The biggest story in American politics today is this: Andrew Jackson is mad as hell, and he's not going to take it anymore.
Read the whole thing.
Hat tip to Bird Dog.