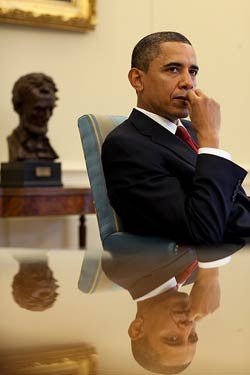 On the campaign trail recently, people have been noticing a different version of the normally cool Barack Obama, this other Barack Obama is openly sarcastic and contemptuous of his opponent.
Lloyd Grove discusses Obama's mean streak.
Increasingly in the past few weeks, especially since Obama formally declared his candidacy for reelection and the former Massachusetts governor has begun pulling even with him in public opinion surveys, the president is embracing full-frontal combat. Frank theorized that Obama is simply "annoyed," much like Jon Lovitz's Dukakis, that a man he considers his political inferior is suddenly in a position to beat him. "He has an edge to him, and the edge comes out when he's feeling pressed," Frank said.

"There are two kinds of fighting—narcissistic fighting and Oedipal fighting," Frank went on. "Oedipal fighting is father and son rolling up their sleeves and duking it out. Narcissistic fighting is putting yourself above the opponent by putting him down. I think Obama does both. He knows how to be a narcissistic fighter and an Oedipal fighter. He knows how to argue about policy and argue with people. Be he also has this other part of him—and I don't know where it comes from—that's like this pocket of nastiness."
————————————————————
Meanwhile, in Britain, the Telegraph is already predicting disaster for Obama come November.
In 1980, Democratic president Jimmy Carter faced an uphill struggle for re-election. Yet, despite an index of inflation and unemployment far higher than Obama's, he was actually doing slightly better in the polls. In March of that year, Carter led his Republican opponent, Ronald Reagan, by around 25 per cent. By May, Gallup gave him a lead of 49 to 41 per cent – higher than Obama's today. Carter's advantage evaporated in the months that followed, but he regained ground in October and by the last week he was running even.

None the less, Carter eventually suffered a landslide defeat. The scale of his humiliation was hidden by the fact that people were unwilling to commit themselves to the conservative Ronald Reagan until the very last minute. It was only when they went into the polling booth and weighed up all the hurt and humiliation of the past four years that they cast their vote against the president. It looks like Barack Obama will be the Jimmy Carter of 2012.