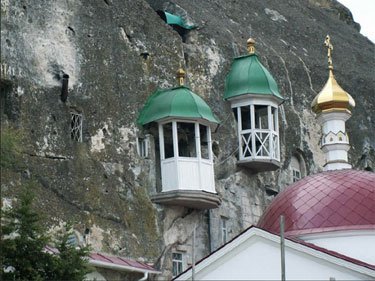 St. Clement Cave Monastery, Inkerman, Crimea, Ukraine (click on picture for larger image)
I usually consider myself terribly well-informed, but every now and then along comes some glimpse of new oceans, new continents, entire new worlds of history and detailed information.
A Facebook acquaintance from the Czech Republic posted this picture of the Cave Monastery of St. Clement at Inkerman in the Crimea, which allegedly held the relics of the martyred 4th Pope until they were transferred elsewhere by Sts. Cyril & Methodius.
What a location for the next Indiana Jones movie!
Romanian Orthodox sites website.