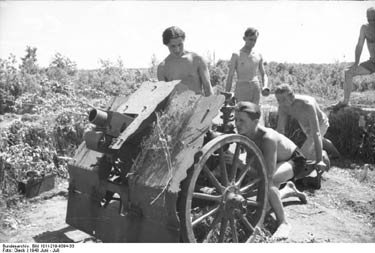 Probably found were examples of the 7.5 cm leichtes GebirgsInfantereiGeschütz 18 Mountain howitzer, which could be disassembled into six to ten packloads weighing 74.9 kg. or under.
RIA Novosti reports that some German WWII artillery pieces were found recently intact and in good working order.
Police in a mountainous region of southern Russia have found five German World War II-era artillery guns along with ammunition for them.

The guns – 76-millimeter cannon – are in good condition, according to police in Kalbardino-Balkaria Republic, the location of Mount Elbrus, the tallest mountain in Europe.

"If they fell into the wrong hands, they could be used as intended," Elbrus police chief Muslim Bottayev said, adding that military engineers would soon remove the weapons and ammunition to a safe location.

The guns were discovered near the Donguz-Orun pass at an elevation of 9,184 feet by officers from the Elbrus District Police Department jointly with members of the Memorial Elbrus society.

The find included eight 76-mm artillery shells, four hand grenades, three mines and 500 small-arms rounds abandoned when the Wehrmacht withdrew from the area.
Complete story.
——————————————
Meanwhile, the Telegraph reported recently on an even more interesting find on the Western front.
The wreck of a huge Luftwaffe transport plane that was shot down by a British fighter in the Second World War has been found off the coast of Sardinia, according to a team of Italian researchers.

It is believed to be the only surviving example of the Messerschmitt 323 "Giant", a massive aircraft that was designed to carry tanks, half-tracks and artillery into battle.

The Germans initially intended to use the plane in the planned invasion of Britain, Operation Sea Lion, but it was cancelled and the aircraft instead saw action in other theatres such as North Africa and the Mediterranean.

The Me-323 was on its way from a German base in Sardinia to the city of Pistoia in Tuscany when it was shot down by a Bristol Beaufighter long-range fighter plane on July 26, 1943.

It crashed into the sea off the Maddalena islands, an idyllic archipelago of low islands and sandy beaches that is popular with sailors and holidaymakers.

A small team led by Cristina Freghieri, a diver and amateur historian, claims to have discovered the wreck at a depth of 200ft.