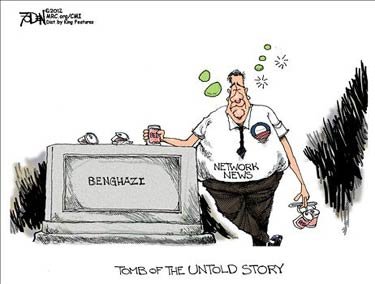 Yesterday, CBS News was the first of the Lamestream Media to break the deliberate establishment press boycott on pre-election coverage on the Benghazi debacle, actually publishing a leak from inside-government sources disadvantageous to the Obama Administration.
CBS News has learned that during the Sept. 11 attack on the U.S. Mission in Benghazi, the Obama Administration did not convene its top interagency counterterrorism resource: the Counterterrorism Security Group, (CSG).

"The CSG is the one group that's supposed to know what resources every agency has. They know of multiple options and have the ability to coordinate counterterrorism assets across all the agencies," a high-ranking government official told CBS News. "They were not allowed to do their job. They were not called upon."
—————————-
Today, Jake Tapper of ABC News commented venomously on the Administration's stonewalling and endeavored to depict ABC as a vigorously investigating news organization.
In the place of a detailed description from the Obama administration about what happened more than six weeks ago comes the drip-drip-drip of stories about the failures of the Obama administration to provide those Americans on the ground in Libya with all the security assets they needed.
—————————-
Hurricane Sandy's arrival on the East Coast was a godsend for the establishment media and Barack Obama, filling up the front page columns and dominating TV news coverage for several crucial days just a week before the election. But the hurricane is now over, there are still four days to go, and the Benghazi story continues, bit by bit, to leak out.