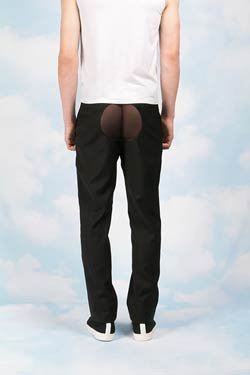 The ineffable Yoko Ono marches on. This time applying her unique talents to men's fashion.
Yoko Ono launched a menswear collection on Tuesday that she says was inspired by John Lennon's "hot bod." Among her designs are pants with large handprints on the crotch, tank tops with nipple cutouts, a flashing LED bra (yes, for men) and that pair of pants with a sheer backside.

The collection of menswear for Opening Ceremony is available the company's U.S. stores in New York and Los Angeles now, its London store on Nov. 30 and its Tokyo flagship on Dec. 9.

Ono's clothing line is based on a series of drawings she sketched as a gift for Lennon for their wedding day in 1969. …

Prices run from $25 for a poster to $200 for a jock strap or $750 for boots with an incense holder or open toes.
As Kurtz used to say: "The horror, the horror."