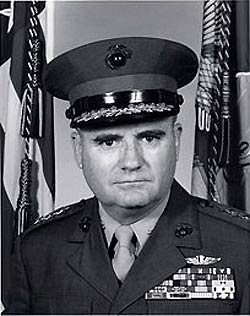 Lt. Gen. Bernard E. Trainor USMC (ret.)
Michael Yon has a classic example of the spectacular-stupidity-and-inflexibility-of-the-TSA genre.
A note [from retired Marine and 3-star General Mick Trainor recently] appeared on a private message board. This private group includes many current and former generals, and just about anyone you see on television or in books as a national security specialist, ranging from CIA to all the top war correspondents, special operations types galore, and high-level policy makers. There is significant education value in just reading their traffic. …

"Did you use hand cream this morning?"

"Yes," I replied, "Why do you ask?"

"Because there is a trace of nitrate on your hands. That is not uncommon with some hand lotions. Nitrate is an element of explosives."

"OK,".I thought. "I have soft hands, but not a bomb." Notwithstanding such logic, I was informed that I would have to have a full body search. With that two agents escorted me to a private room while other agents began to tear apart my luggage.

"Is this really necessary?" I enquired. "I'm an eighty four year old, native born American citizen who spent forty years in the Marines and fought in two wars and retired as a general."

"Oh, you were a Marine." said one agent. "My father-in-law is a retired Marine colonel of about your vintage. His name is Webster. Did you know him?"

"I knew a Charlie Webster, who went as 'Chuck.' We went through Quantico together as new lieutenants."

"That's him." replied my interrogator ….. as he proceeded with the full body search.
Not quite as bad as the 2002 shakedown of 86-year-old WWII hero and former South Dakota governor Joe Foss, during which TSA personnel failed to recognize and tried to confiscate his Medal of Honor, but very bad. Story here.
Anybody know the name of that "private message board?"