28 May 2021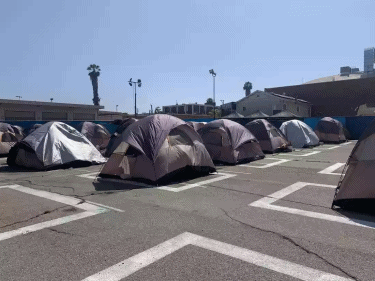 NPR:
In Los Angeles, city officials grappling with an ongoing homelessness crisis have turned to an idea that for decades was politically unpopular and considered radical: a government-funded tent encampment.

Other cities, including San Francisco, Seattle and Tampa, Fla., have opened similar programs in recent years. But the high public cost of LA's first sanctioned campground — more than $2,600 per tent, per month — has advocates worried it will come at the expense of more permanent housing.

The campsite opened in late April on a fenced-in parking lot beside the 101 freeway in East Hollywood. The lot-turned-campground can accommodate up to about 70 tents in 12-by-12-foot spots marked by white squares painted on the asphalt.
—————————-
Power-Line's Steven Hayward is justiably appalled.
What a minute—what? $2,600 per month, per tent?!?!

As the kids say, AYFKM!? Only government could spend more for tents than you'd have to pay for a rental apartment even in high-priced Los Angeles. You can shoplift ten tents from a store (without risk of prosecution in California right now) for that amount.

But let's keep going with the NPR story:

On a recent afternoon, the site was nearly full. A row of port-a-potties stood along one side of the camp. The program also provides showers, three meals a day and 24-hour security. Campers get entered into the county's database for matching unhoused people with social services and housing resources. . .

According to a report by the city administrative officer, the new East Hollywood campground costs approximately $2,663 per participant per month. That's higher than what a typical one-bedroom apartment rents for in the city, according to the website RentCafe. While the per-tent cost covers services, meals, sanitation and staffing, some are concerned that the city is investing too much in short-term Band-Aids over long-term solutions.

I'd love to see a genuine audit of this homelessness spending to see how much the bureaucracy, consultants, administrators, and others in the "caring professions" chain of being skim off the top.
But this is obviously no accident or oversight, it's simply the looting pf the public treasury undertaken behind the facade of an idealistic cause. You can bet that those tents are being rented by the brother-in-law or pal or corporate shell actually owned by some influential democrat panjamdrum.