One sees these days the cryptic motto "Molon Labe" appearing everywhere.
"Molon Labe" is a Greek quotation. According to Plutarch, the Persian King Xerxes demanded that the 300 Spartans holding the pass at Thermopylae in the face of his enormous army should surrender their weapons.
Xerxes writing to him again thus, Send me thy arms, he returned, Come and take them. [Greek: Molon labe]
——————————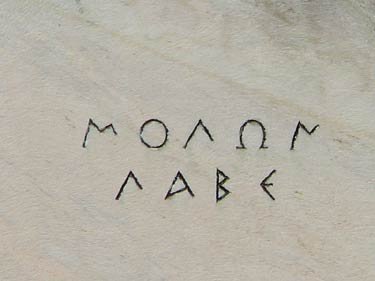 The words ΜΟΛΩΝ ΛΑΒΕ are inscribed on the marble Leonidas Monument at Thermopylae.
——————————
Barack Obama, when he's thinking about issuing an executive order as a constitutional end run and ordering federal authorities to confiscate arms in the hands of American citizens, ought to pause and recall that the United States came to exist specifically because British General Thomas Gage received orders from William Legge, Earl of Dartmouth, the King's Secretary of State ordering him to disarm the citizens of Middlesex County in Massachusetts. General Gage consequently on the 19th of April in 1775 dispatched 700 infantry in the direction of the towns of Lexington and Concord. Resistance occurred and continued until October 19, 1781 when General Cornwallis surrendered to George Washington at Yorktown. It is by no means impossible that a grand, new federal Gun Control initiative, enacted with the same energy and indifference to public opposition as Obamacare, would encounter real and organized resistance.