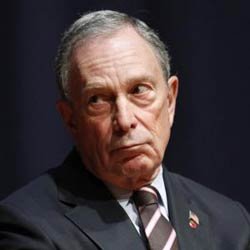 The Washington Times makes clear that Hizonner is not actually referring to cases of civil war or national emergency either. He means, in fact, whenever we (the bien pensant class of busybodies) are convinced that we know best what's good for you.
New York City Mayor Michael Bloomberg said on Sunday: Sometimes government does know best. And in those cases, Americans should just cede their rights.

"I do think there are certain times we should infringe on your freedom," Mr. Bloomberg said, during an appearance on NBC. He made the statement during discussion of his soda ban — just shot down by the courts — and insistence that his fight to control sugary drink portion sizes in the city would go forth.
Read the whole thing.
We need to find a way to expel Michael Bloomberg from the Republican Party.