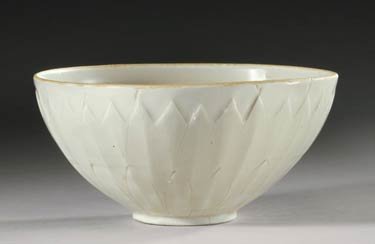 DING BOWL, NORTHERN SONG DYNASTY
Kovel's reports:
The big network news story last week was the $2.22 million bowl sold by Sotheby's in London [sic: the sale was in New York] on March 19, 2013. A New York couple had bought the bowl in 2007 for $3. Here are the facts culled from many news stories: The bowl is 5 inches in diameter. It was made during the Northern Song Dynasty (960-1127). Only one other like it is known and that one is in the British Museum. The expensive bowl is white and has a molded leaf decoration outside and an etched flower design inside. The sellers displayed the bowl either on their mantel or a table until recently, when they noticed the high prices being paid for Chinese ceramics. So they had the bowl appraised and Sotheby's listed it for sale at $200,000 to $300,000. When the owners were informed the bowl sold for millions, they emailed back "WOW!!!" The buyer, one of four serious bidders, is considered by many to be the world's foremost dealer in Oriental art. He says he is sure he will be able to sell the bowl.
Sotheby's Fine Chinese Ceramics & Works of Art sale, New York, March 19, lot 94:

PROPERTY FROM A NEW YORK STATE FAMILY COLLECTION
A RARE AND IMPORTANT 'DING' BOWL
NORTHERN SONG DYNASTY
Estimate: 200,000 – 300,000 USD
LOT SOLD. 2,225,000 USD (Hammer Price with Buyer's Premium)
the finely potted body of slightly rounded and steep flared form rising from a short spreading foot to an upright rim, deftly carved to the interior with scrolling leafy lotus sprays, the exterior carved and molded with three rows of overlapping upright leaves, applied overall with an even ivory-colored glaze with characteristic teardrops at the base, the rim of the bowl and the footrim left unglazed showing the fine compact body beneath
Diameter 5 3/8 in., 13.4 cm
Sotheby's blog did a nice write-up.
The British Museum tells us that these ceramics were "produced at the Ding kilns in Hebei province, northern China, whose white porcelains were considered one of the 'five great wares' of the Song Dynasty (AD 960-1279 AD)."

DING BOWL, NORTHERN SONG DYNASTY