Category Archive 'Ceramics'
01 Nov 2018

11 May 2018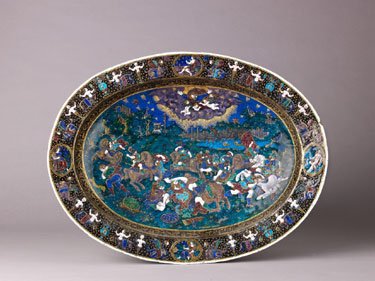 Suzanne de Court (active 1575-1625), Painted enamel on copper, partly gilt, Conversion St. Paul, Robert Lehman Collection, Metropolitan Museum of Art.
18 Dec 2015

————————-
————————-
Yunhee Lee is a very popular young ceramic artist still in her twenties. Straight out of university, Lee has been invited to numerous exhibitions in and outside Korea, many of which has seen her artworks do extremely well. Lee is currently a resident artist at Clayarch Gimhae Museum, as part of its initiative to support creative and experimental artists. In 2013 Gyeonggi International Ceramic Biennale, she was selected as one of 20 'Hot Rookies' artists, which included young talents from around the world including China, US, Germany, France, and Spain. Lee calls herself a collector: collector of common stories around her, regarding people's insatiable desires, fears, anxieties and the cure they search and find to overcome them. She takes note of these 'curing processes' and bring them to life with her hands using clay as a medium. Layers of variously sized units and the splendid patterns and colors have created a beautifully delicate and refined artwork that has come to define Lee's artistic style.
South Korean artist Lee Yun Hee creates narrative ceramic pieces inspired by literature and story telling. She uses both Western and Eastern influences, creating a style of her own that is striking, unique and undoubtably contemporary. Her work is fragile and flawless, almost creating an aura of effortlessness. She uses her work to reflect upon stories of everyday people; their struggles, fears, hopes, and anxieties. Yet, most importantly to her, she is truly interested in documenting their "cures" — the sort of "up from below" type stories that end with a protagonist who has had the strength and endurance to overcome a difficult task. For example, her piece La Divina Commedia, reinterprets the classic 14th century poem by Dante. In her version, she depicts a young girl's search for truth. She explains the tale behind the piece in an interview with Brilliant 30. She states,

"there was once a girl that received an oracle, telling her future. The knowledge, the predestined desire and insecurity left her troubled. In search of happiness and peace, she embarked on a journey. Along the way, she encountered many obstacles; but at the end, she discovered the peace she has been striving for…By overcoming anxiety and suppressing desire, the girl reaches a state of ultimate peace."

Her work acts as windows into her own version of a fairy tale; she is able to re-create morality stories within her own framework. She refers to her self as a collector— she takes influence from everything she sees. She explains, "I have been keen on collecting images since I was a child. I would rather cut out the pictures from cartoons than read them. Even the encyclopedia wasn't safe. These processes have had more influence than anything else on my background as an artist."

Lee Yun Hee's work is mystical and fantastic. Though balancing modern, classic, Eastern, and Western styles, she has creating an epic body of art that is honest, profound, and truly unique.
28 Mar 2013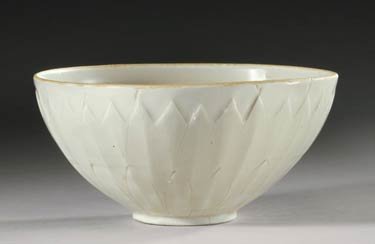 DING BOWL, NORTHERN SONG DYNASTY
Kovel's reports:
The big network news story last week was the $2.22 million bowl sold by Sotheby's in London [sic: the sale was in New York] on March 19, 2013. A New York couple had bought the bowl in 2007 for $3. Here are the facts culled from many news stories: The bowl is 5 inches in diameter. It was made during the Northern Song Dynasty (960-1127). Only one other like it is known and that one is in the British Museum. The expensive bowl is white and has a molded leaf decoration outside and an etched flower design inside. The sellers displayed the bowl either on their mantel or a table until recently, when they noticed the high prices being paid for Chinese ceramics. So they had the bowl appraised and Sotheby's listed it for sale at $200,000 to $300,000. When the owners were informed the bowl sold for millions, they emailed back "WOW!!!" The buyer, one of four serious bidders, is considered by many to be the world's foremost dealer in Oriental art. He says he is sure he will be able to sell the bowl.
Sotheby's Fine Chinese Ceramics & Works of Art sale, New York, March 19, lot 94:

PROPERTY FROM A NEW YORK STATE FAMILY COLLECTION
A RARE AND IMPORTANT 'DING' BOWL
NORTHERN SONG DYNASTY
Estimate: 200,000 – 300,000 USD
LOT SOLD. 2,225,000 USD (Hammer Price with Buyer's Premium)
the finely potted body of slightly rounded and steep flared form rising from a short spreading foot to an upright rim, deftly carved to the interior with scrolling leafy lotus sprays, the exterior carved and molded with three rows of overlapping upright leaves, applied overall with an even ivory-colored glaze with characteristic teardrops at the base, the rim of the bowl and the footrim left unglazed showing the fine compact body beneath
Diameter 5 3/8 in., 13.4 cm
Sotheby's blog did a nice write-up.
The British Museum tells us that these ceramics were "produced at the Ding kilns in Hebei province, northern China, whose white porcelains were considered one of the 'five great wares' of the Song Dynasty (AD 960-1279 AD)."