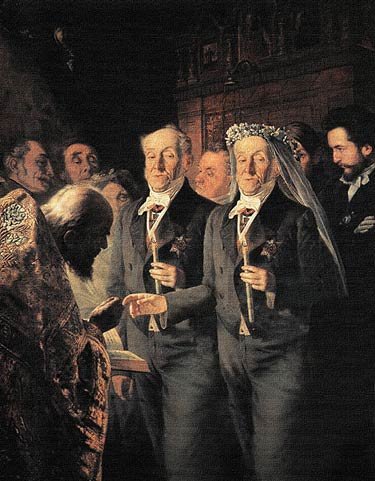 Photoshopped version of: Vasili Pukiriev, Неравный брак [The Unfitting Marriage], 1862
An inclination toward, and willingness to participate in, perverted sexual acts does not really endow morally feeble and psychologically defective people with membership in a category of society carrying with it special recognition and privileges.
There is no such thing as a "Gay." There are only perverted sexual acts. Gay is a fake, artificially-constructed category padded out with all sorts and forms of deviance and abnormality: with sissies, with psychologically-damaged and socially-maladapted persons obsessed with envy of the opposite sex, i.e., transvestites and female impersonsators, with pedophiles, fetishists, and with persons who are sexually stimulated by self-abasement. In Lawrence Durrell's Alexandria, for instance, there were "more than five sexes and only demotic Greek seem[ed] to distinguish among them. The sexual provender [was] staggering in its variety and profusion. You would never mistake it for a happy place." The ranks of the suppositious Gay identity are filled with neurotics, neurasthenics, eccentrics, the rebellious young, females disappointed in love, persons desperate for some form of self-distinction, dabblers, experimenters, and fellow travelers, debauchees, trend-seekers, self-destroyers and substance-abusers. They are so desperate for numbers that they have even added to their "LGBT" self-styled designation people who mutilate their bodies and ingest the hormones of the opposite sex.
If membership in a culture best noted for offering oral sexual services to strangers in public lavatories entitles you to have the government invent a parody version of marriage just for you, why shouldn't fishing pals, business associates, bowling team members, bridge partnerships, drinking buddies, and people who counterfeit money or rob banks together not also receive federal benefits? If sodomy is worthy of federal recognition, approval, and protection, why not polygamy, bestiality, and incest? There are doubtless people in California who want group marriages and others who want to marry objects of public infrastructure and redwood trees. On what logical basis can they now possibly be denied?
If indulgence in vice makes you special and gives you status and privileges, why are only sodomites being so favored? Alcoholism is commonly considered to be an inheritable infirmity. Like the homosexual, the boozehound has no choice about his inclinations. Clearly, Anthony Kennedy ought to sit down and find some appellate case to which he can arrange cert, and start drafting his opinion that rumdums are equal, too, and cannot be denied their rights to employment or to driving vehicles.
We obviously live in a society led around by the nose by an elite which is too stupid to live. Any appeal to emotion and sentimentality will reduce even the learned Supreme Court Justice, nominated by a Republican and entrusted by Fate with the deciding vote, to the intellectual condition of a pubescent female in early high school who has been reading Black Beauty.