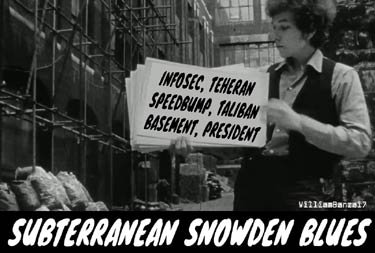 WilliamBanzai7 at Zero Hedge:
[Excerpt]
SUBTERRANEAN SNOWDEN BLUES
Snowden's in the basement
Surfing on the Internet
I'm on the pavement
Thinking about the gubmint
The spook in the trench coat
Kicked out, laid off
Says he's got a bad cough
Wants his mortgage paid off
Ya better look out kid
It was somethin you did
God knows when
But they'll Google you again
You better duck down the alley way
Lookin' for a new friend
A man in a coolie cap
In a pawn pen
Wants eleven eleven dollar bills
you only got ten.
Greenie comes fleet foot
Face full of black soot
Talkin' that the heat put
Plants in his bed but
The phone's tapped anyway
Guardian says that many say
They wanna break it late May
Orders from the NSA are in
You better look out kid
Don't matter what you say they did
You gonna get hit
You walkin on your tip toes
Don't try, 'No Doz'
Stay away from the
suckers with the fiber optic fire hose
Keep a clean nose
Watch the plain clothes
You don't need a weather man
To know which way the wind blows.
Hat tip to Jim Harberson.