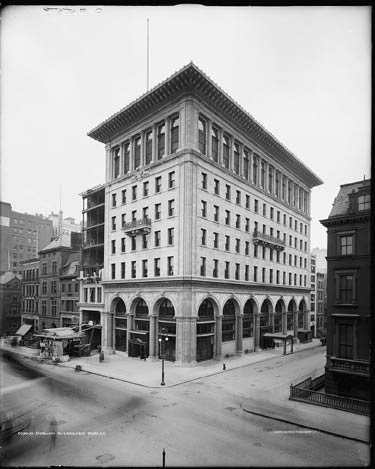 Designed by Stanford White in 1904, the Italian Renaissance Revival palazzo-style Gorham Building at 390 Fifth Avenue at West 36th Street in New York.
The vertical grandiosity of the Gorham building proved a tremendous hit, and it was copied again and again all over the United States in the course of the next couple of decades.
Shorpy's yesterday posted this photo of the Columbus Savings & Trust, built 1905.
I'm personally familiar with this style because the tallest downtown building in my hometown of Shenandoah, Pennsylvania was the Stief Drugstore Building, at the northeast corner of Main & Centre, built in the 1920s as the Shenandoah Trust Building. They tore it down in the 1970s.
I know similar buildings used to stand in Pottsville and Reading, Pennsylvania. How many more examples can readers add?