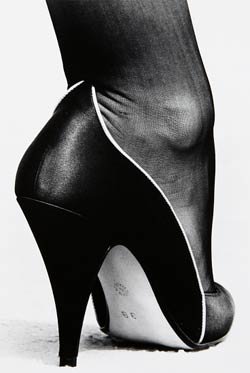 Helmut Newton, Shoe, Monte Carlo, 1983, Gelatin silver print from Private Property Suite I, 1983, printed 1984 in 75 copies.
Camille Paglia follows in the tradition of Susan Sontag and Roland Barthes by producing brilliantly written pieces of high criticism of ordinary elements of contemporary popular culture.
Helmut Newton, whose superb fashion photography was suffused with the perverse world view of his native Weimar Berlin, captured the disturbing complexities of the high heel in Shoe, a picture taken in Monte Carlo in 1983. Here we see the fashionable shoe in all its florid delicacy and dynamic aggression. The stance, with shifted ankle, seems mannish. Is this a dominatrix poised to trample her delirious victim? Or is it a streetwalker defiantly defending her turf? Or a drag queen scornfully pissing in an alley? The shoe, shot from the ground, seems colossal, a pitiless totem of pagan sex cult.

The luxury high heel as status marker is directed not toward men but toward other women—both intimate confidantes and bitter rivals. The high heel in its dazzlingly heraldic permutations (as dramatized in Sex and the City) is beyond the comprehension of most men: only women and gay men can tell the difference between a Manolo Blahnik and a Jimmy Choo. In full disclosure, I never wear these shoes and indeed deplore their horrifying cost at a time of urgent social needs. Nevertheless, I acknowledge and admire the high heel as a contemporary icon and perhaps our canonical objet d'art.

At the Neiman Marcus department store at the King of Prussia Mall in suburban Philadelphia, a visitor ascending the escalator to the second floor is greeted by a vast horizon of welcoming tables, laden with designer shoes of ravishing allure but staggering price tags (now hovering between $500 and $900 a pair but soaring to $6000 for candy-colored, crystal-studded Daffodile pumps by Christian Louboutin). Despite my detestation of its decadence, this theatrical shoe array has for years provided me with far more intense aesthetic surprise and pleasure than any gallery of contemporary art, with its derivative gestures, rote ironies, and exhausted ideology.

Designer shoes represent the slow but steady triumph of the crafts over the fine arts during the past century. They are streamlined works of modern sculpture, wasteful and frivolous yet elegantly expressive of pure form, a geometric reshaping of soft and yielding nature. An upscale shoe department is a gun show for urban fashionistas, a site of ritual display where danger lurks beneath the mask of beauty.