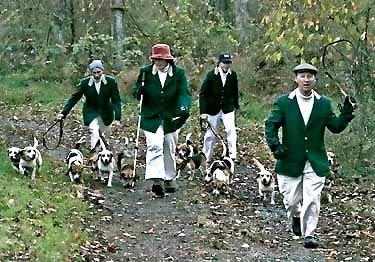 The Wolver Beagles competing in the Beagle Pack Trials at the Institute Farm in Aldie, Virginia, November, 2010. (Photo: Karen L. Myers)
The Wolver Beagles celebrated their hundred anniversary of operation as an organized hunting pack this fall. By my count, Wolver is the fifth oldest beagle pack in the United States, preceded only by the Waldingfield Beagles (founded 1885), the Somerset Beagles (founded 1888, disbanded 1922), the Sir Sister Beagles (founded 1897), and Richard Gambrill's Vernon Somerset Beagles (founded 1912, disbanded 1953). Only two older beagle packs still survive, and Wolver can additionally boast a more continuous operation under fewer masters than any other beagle pack in America.
Wolver's colors, displayed on the collar, are buff with light blue piping. Wolver is a private pack, operating out of Middleburg, Virginia and hunting only bitch hounds. Wolver is recognized everywhere as a crack pack, performing typically at a superior level and winning far more than its share of competitions.
Barbara Riggs produced an article on Wolver's history appearing this week in the Chronicle of the Horse.