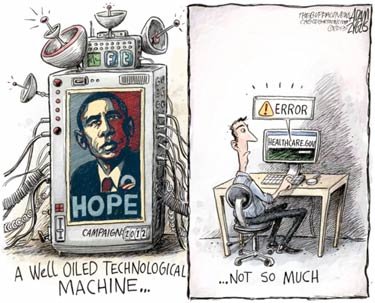 Clay Shirky describes how government IT cannot effectively translate planning into reality, avoids testing, and insists on shunning a phased roll-out approach but then finds itself experiencing exactly that.
It's certainly true that Federal IT is chronically challenged by its own processes. But the problem with Healthcare.gov was not timeline or budget. The problem was that the site did not work, and the administration decided to launch it anyway.

This is not just a hiring problem, or a procurement problem. This is a management problem, and a cultural problem. The preferred method for implementing large technology projects in Washington is to write the plans up front, break them into increasingly detailed specifications, then build what the specifications call for. It's often called the waterfall method, because on a timeline the project cascades from planning, at the top left of the chart, down to implementation, on the bottom right.

Like all organizational models, waterfall is mainly a theory of collaboration. By putting the most serious planning at the beginning, with subsequent work derived from the plan, the waterfall method amounts to a pledge by all parties not to learn anything while doing the actual work. Instead, waterfall insists that the participants will understand best how things should work before accumulating any real-world experience, and that planners will always know more than workers.

This is a perfect fit for a culture that communicates in the deontic language of legislation. It is also a dreadful way to make new technology. If there is no room for learning by doing, early mistakes will resist correction. If the people with real technical knowledge can't deliver bad news up the chain, potential failures get embedded rather than uprooted as the work goes on. …

[Emphasis added:] The vision of "technology" as something you can buy according to a plan, then have delivered as if it were coming off a truck, flatters and relieves managers who have no idea and no interest in how this stuff works, but it's also a breeding ground for disaster. The mismatch between technical competence and executive authority is at least as bad in government now as it was in media companies in the 1990s, but with much more at stake.
Read the whole thing.
Hat tip to the Dish.