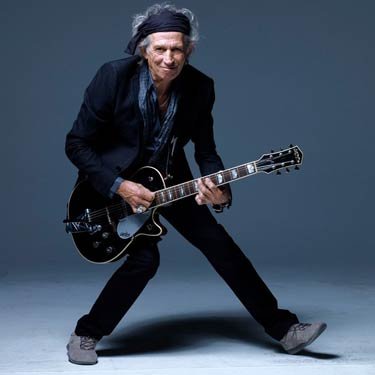 Keith Richards tells the Wall Street Journal that the opening chords of Street Fighting Man were intended to imitate the sound of French police sirens.
Around this time, I became fascinated by one of the early cassette tape recorders made by Philips. The machine was compact, so it was portable, and it had this little stick microphone, which would allow me to capture song ideas on the fly. So I bought one, but as I watched the small tape-cartridge reels turn, I began to think of the machine not as a dictation device but as a mini recording studio. The problem is I couldn't use an electric guitar to record on it. The sound just overwhelmed the mike and speaker. I tried an acoustic guitar instead and got this dry, crisp guitar sound on the tape—the exact sound I had been looking for on the song.

At the time, I was experimenting with open tunings on the guitar—you know, tuning the strings to form specific chords so I could bang out the broadest possible sound. That's how I came up with "Street Fighting Man's" opening riff—even before I bought the Philips. I based the rest of the song's melody on the tone pattern of those odd sirens French police cars use [sings the siren and lyrics to illustrate].

Sometime in early '68, I took the Philips recorder into London's Olympic Sound Studios and had Charlie [Watts] meet me there. Charlie had this snap drum kit that was made in the 1930s. Jazz drummers used to carry around the small kit to practice when they were on the bus or train. It had this little spring-up hi-hat and a tambourine for a snare. It was perfect because, like the acoustic guitar, it wouldn't overpower the recorder's mike. I had Charlie sit right next to the mike with his little kit and I kneeled on the floor next to him with my acoustic Gibson Hummingbird. There we were in front of this little box hammering away [laughs]. After we listened to the playback, the sound was perfect.

On that opening riff, I used enormous force on the strings. I always did that and still do. I'm looking at my hands now and they look like Mike Tyson's. They're pretty beat up. I'm not a hard hitter on the strings—more of a striker. It's not the force as much as it is a whip action. I'm almost releasing the power before my fingers actually meet the strings. I'm a big string-breaker, since I like to whip them pretty hard.
Read the whole thing.
——————————————-
You can kind of hear the siren motif, if you try, but I think the opening principally creates a powerful sense of expectation of near-term melodic gratification and fulfillment.