Category Archive 'Keith Richards'
29 May 2019

Via Ed Driscoll:
OR AS KEITH RICHARDS CALLS IT, "BREAKFAST." Man dies on flight after swallowing 246 cocaine packets.
20 Aug 2018

19 Jan 2016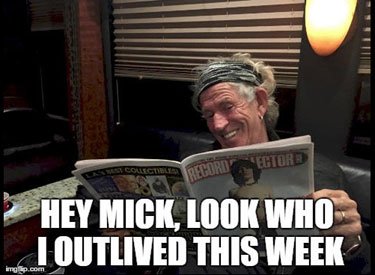 21 Oct 2015

26 Sep 2015

The Vancouver Sun responds to the arrival of Keith Richards: Under the Influence, a Netflix documentary by asking: How did Keith Richards become everybody's favorite Rolling Stone?
Watching the old buccaneer in action, you have to wonder how he became so universally loved. He has been hailed as the Human Riff and anointed the world's most elegantly wasted human being, the bad-boy pin-up for junkie chic with the heavily wrinkled face. Surely Richards should be nobody's idea of a role model: self-indulgent, irresponsible, a star squandering his gifts on drugs and alcohol? Mick Jagger's former partner, Jerry Hall, warned their children of the dangers of drugs by asking them if they wanted to grow up to look like Uncle Keith.

So how did such a reprobate survive five decades on the edge to become everybody's favourite Rolling Stone?

Back when it all began, it was Jagger who was the epitome of sexy, rebellious cool. Richards was his scruffy sideman with a swaggering line in guitar riffs. Aficionados loved him but the dreamy Brian Jones was hailed as the band's genius (not least by Jones himself). As the 60s ended, though, there was a shift in the Stones hierarchy. Richards was getting his look together: cigarette permanently attached to lower lip, jagged hair cascading around his head like an electrified mop, ragged gypsy clothing accessorized by skulls, rings and bandanas.

Dark-eyed and lean, Richards, even with his piratical flamboyance, took on a very masculine presence next to Jagger's camp theatricality. It corresponded with his growing maturity as a musician. Richards took the reins for the Stones' greatest run of work, from Beggars Banquet in 1968 to Goats Head Soup in 1973, reshaping blues for the modern age. But at the same time, he was developing habits that have made him the personification of all the most extravagant myths of sex, drugs and rock'n'roll.
Read the whole thing.
05 Aug 2015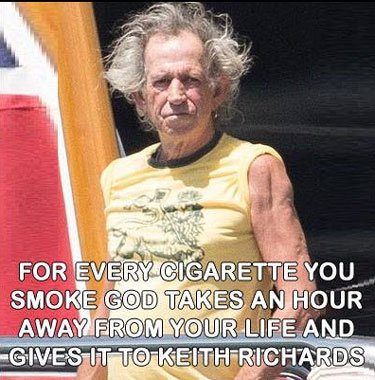 13 Dec 2013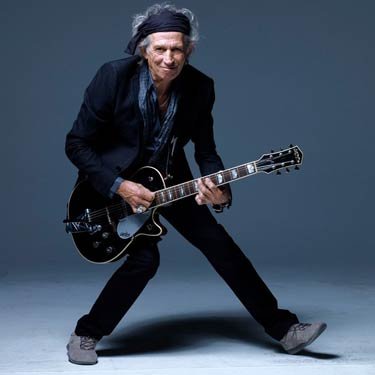 Keith Richards tells the Wall Street Journal that the opening chords of Street Fighting Man were intended to imitate the sound of French police sirens.
Around this time, I became fascinated by one of the early cassette tape recorders made by Philips. The machine was compact, so it was portable, and it had this little stick microphone, which would allow me to capture song ideas on the fly. So I bought one, but as I watched the small tape-cartridge reels turn, I began to think of the machine not as a dictation device but as a mini recording studio. The problem is I couldn't use an electric guitar to record on it. The sound just overwhelmed the mike and speaker. I tried an acoustic guitar instead and got this dry, crisp guitar sound on the tape—the exact sound I had been looking for on the song.

At the time, I was experimenting with open tunings on the guitar—you know, tuning the strings to form specific chords so I could bang out the broadest possible sound. That's how I came up with "Street Fighting Man's" opening riff—even before I bought the Philips. I based the rest of the song's melody on the tone pattern of those odd sirens French police cars use [sings the siren and lyrics to illustrate].

Sometime in early '68, I took the Philips recorder into London's Olympic Sound Studios and had Charlie [Watts] meet me there. Charlie had this snap drum kit that was made in the 1930s. Jazz drummers used to carry around the small kit to practice when they were on the bus or train. It had this little spring-up hi-hat and a tambourine for a snare. It was perfect because, like the acoustic guitar, it wouldn't overpower the recorder's mike. I had Charlie sit right next to the mike with his little kit and I kneeled on the floor next to him with my acoustic Gibson Hummingbird. There we were in front of this little box hammering away [laughs]. After we listened to the playback, the sound was perfect.

On that opening riff, I used enormous force on the strings. I always did that and still do. I'm looking at my hands now and they look like Mike Tyson's. They're pretty beat up. I'm not a hard hitter on the strings—more of a striker. It's not the force as much as it is a whip action. I'm almost releasing the power before my fingers actually meet the strings. I'm a big string-breaker, since I like to whip them pretty hard.
Read the whole thing.
——————————————-
You can kind of hear the siren motif, if you try, but I think the opening principally creates a powerful sense of expectation of near-term melodic gratification and fulfillment.
14 Jan 2013


Shenandoah (1889), a play by Bronson Howard. The outbreak of the Civil War means that two West Point friends, Kerchival West of New York and Robert Ellingham of Virginia, must take opposing sides. Before the war, each man was in love with the other's sister. Both men become colonels in their respective armies.
I grew up in a small town in Northeastern Pennsylvania called Shenandoah, and now, in old age, I live in Virginia very near the Valley of the same name, where Karen and I spend a lot of time these days hunting.
The name Shenandoah is consequently very evocative for me, so I cannot possibly avoid linking this truly over-the-top performance of the traditional folk song Shenandoah by Tom Waits and Keith Richards: 4:02 audio.