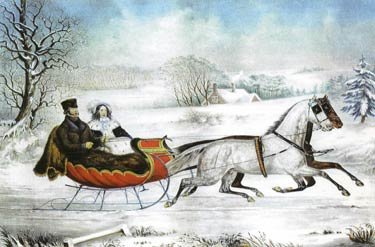 Winter in Rumford, Maine brings out the best of Sippi's repartee.
Winter came like a postcard a long time ago. The snow drifted down in slow motion, the big, fat flakes parachuting in and accumulating gently on the frosted earth. There was a lot, all at once, and in the morning the birdhouse wore a pope's hat, and the birdbath was a cheesecake. The sun shone and the trees wore their coat of flakes like ermine.

Then the rain came. It turned the pope's hat to a drunkard's fedora, and the cheesecake to a dog's breakfast. It came down mechanically, at an angle that could be measured anywhere along its route, as methodical as a secret policeman; the icicles on the eaves turned from a little fringe to dragon's teeth. The trees threw their coats on the ground with their shivering, and left craters like the moon in the slumping snow.

Then it did it all again. Snow fell on top of the icy film over the styrofoam snow, and brought Currier and Ives back to town. Then the ice came and put Currier and Ives in the stocks in the town square for the crime of being jolly out of turn, and pelted them with everything handy. The roads turned to suggestions. The pavement was just the bottom layer of an arctic lasagne of sand and ice and mud and snow and general corruption. My wife's car and my truck told me to shove it more than once when I turned their keys.

Then the thermometer began a truth or dare phase. It had been ten degrees below normal for months, but now it wanted to impress people. Pinch the unwary. Show you who's in charge around here. Twice it showed me twenty below and kept going, and days ticked off the calendar, one after another, without ever reaching the number one. The ladder to spring had been drawn up into the calendar's treehouse. We'd have to set a spell and wait for it.

There is no heat but what we can make. I shoveled the logs into the stove like a man in the belly of some great, dripping, iron ship, while icebergs passed by the portholes in first class. Nothing you could do could touch twenty below. You could set your house itself on fire and not raise the temperature in the living room ninety degrees. What chance do you and your disassembled birches and beeches have? But one bails a leaky rowboat whether you have a bucket or a teaspoon.