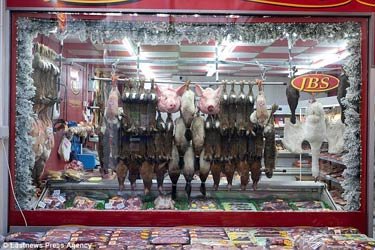 It happened in Sudbury, as the Daily Mail reports:
A high Street butcher in Suffolk has been forced to take down its window display, as shoppers are said to be offended by the sight of bits of dead animals.

Hanging pigs' heads, limp rabbits and dead pheasants were upsetting the children.

The senseless twits behind the hate campaign mounted against JBS Family Butchers of Sudbury say they are trying to protect their children from the ugliness of 'mutilated carcasses'.

This seems implausibly puritanical. Any child with internet access and a stack of video games will have seen far worse.

These sentimental folk are part of an ever-growing collective ignorance about food and farming that is immensely damaging not only to the countryside, to farming and to animals — but also to ourselves.

Our lack of understanding of where food really comes from is helping to create mountains of food waste and a population of fat, unhealthy Britons.
Read the whole thing.
This kind of urban deracination has real consequences. People who think that meat is manufactured somewhere in a factory laboratory look upon all animals as lovable Disney characters and are eager to ban hunting and all the other field sports. Meanwhile, demand for antiseptic and completely uniform food items makes old-fashioned family farming and human animal husbandry impossible and meat animals are that much more certain to be raised in unnatural factory farm hatcheries. Human ignorance and alienation from Nature and the countryside is bad for agriculture, bad for animals, bad for the countryside, and impoverishing to human culture.
Hat tip to Jesse Swan.