Category Archive 'City versus Country'
07 Nov 2019

26 Aug 2018

Brett Stevens discusses the fundamental differences of outlook dividing America.
Two different groups inhabit Western society, politically, and each wants a different civilization than the other. One desires a bureaucratic egalitarian society, and the other, a hierarchical organic one.

As explained by a historian, these divisions became apparent during the Civil War and persist to this day. …

… the actual division is more fundamental: those who follow an organic way of life versus those who want a life designed around human, and not natural or metaphysical, values. The former group likes independence, the latter group wants enforced equality.

When you live in a cosmopolitan cities in which factories are the primary source of income, egalitarianism becomes addictive. None of you have any culture; you have no role other than your jobs. Thus, you make jobs your primary form of identity, and replace culture with a novelty-based stream of entertainment and distractions.

To live in the South, you had to appreciate nature, and see the wisdom of God in the bends of the trees and the flight of the bees. You had to believe that each person was born to a unique role which fit their abilities, and that working together unequally, you could raise a civilization which was greater than the sum of its parts.

In the North, bourgeois sentiment reigned. You had to believe that each person was accountable to nothing except himself, that his work would give his life meaning, and that the mechanical schedule of the city could replace customs, culture, calendar, and heritage. You lived only for yourself, as one equal part of a vast machine.

The term "progress" originally meant the slow swallowing-up of the villages and heartlands of Europe and America by the mechanized city and its need for humans as a fungible quantity, all equal and motivated only by money, so that industry could depend on them to act in predictable ways.

The South took one look at the North said said "no way." They wanted a life based more in enjoyment of the beauties of life than in converting life into a product, and the cultivation of a vast audience of cultureless people to purchase these products.

In this way, the South represented the ten percent in The Dad Theory. If you recall, The Dad Theory was an idea advanced by my father which states that ninety percent of humanity are narcissistic animals concerned only with self-gratification, where ten percent are aware of something more and inclined to work toward goodness and beauty.

This ten percent are the natural leaders of humankind. When they are in power, society advances and the workers, who really have no idea what to do with themselves when not working, are placed in a subservient role where their lack of impulse control cannot be a problem.

Organic people of this nature distinguish themselves by having a sense of purpose in life. They mature, look around, and find some way to make things better, not just in the sense of efficiency or productivity, but quality. They make life more graceful, elegant, joyful, balanced, harmonious, beautiful, and wise.

The crowd — those who cluster in the cities around factories and government offices — lack an ability to have purpose and can only react. When they need money, they go to a job; when they see something they like, they buy it or steal it. They are driven solely by appetites, which is why former societies called them serfs or plebs.

Their elites, driven to support the population in which they find themselves, adapted a philosophy to defend this way of life known as "egalitarianism," or the notion that everyone is equal in worth and therefore deserves a seat at the table. This contrasts the organic notion of hierarchy, or moving the best people above the rest of the herd.
22 May 2018

The big think piece of the week is this exercise in class navel-gazing in the Atlantic. Its author, Matthew Stewart, is an obviously Very Smart Guy, who went to Princeton and Oxford and who's written books on the American Revolution's foundation in Philosophy and on why Management Consulting is typically a scam.
I've joined a new aristocracy now, even if we still call ourselves meritocratic winners. If you are a typical reader of The Atlantic, you may well be a member too. (And if you're not a member, my hope is that you will find the story of this new class even more interesting—if also more alarming.) To be sure, there is a lot to admire about my new group, which I'll call—for reasons you'll soon see—the 9.9 percent. We've dropped the old dress codes, put our faith in facts, and are (somewhat) more varied in skin tone and ethnicity. People like me, who have waning memories of life in an earlier ruling caste, are the exception, not the rule.

By any sociological or financial measure, it's good to be us. It's even better to be our kids. In our health, family life, friendship networks, and level of education, not to mention money, we are crushing the competition below. But we do have a blind spot, and it is located right in the center of the mirror: We seem to be the last to notice just how rapidly we've morphed, or what we've morphed into.

The meritocratic class has mastered the old trick of consolidating wealth and passing privilege along at the expense of other people's children. We are not innocent bystanders to the growing concentration of wealth in our time. We are the principal accomplices in a process that is slowly strangling the economy, destabilizing American politics, and eroding democracy. Our delusions of merit now prevent us from recognizing the nature of the problem that our emergence as a class represents. We tend to think that the victims of our success are just the people excluded from the club. But history shows quite clearly that, in the kind of game we're playing, everybody loses badly in the end. …

The fact of the matter is that we have silently and collectively opted for inequality, and this is what inequality does. It turns marriage into a luxury good, and a stable family life into a privilege that the moneyed elite can pass along to their children. How do we think that's going to work out?

This divergence of families by class is just one part of a process that is creating two distinct forms of life in our society. Stop in at your local yoga studio or SoulCycle class, and you'll notice that the same process is now inscribing itself in our own bodies. In 19th-century England, the rich really were different. They didn't just have more money; they were taller—a lot taller. According to a study colorfully titled "On English Pygmies and Giants," 16-year-old boys from the upper classes towered a remarkable 8.6 inches, on average, over their undernourished, lower-class countrymen. We are reproducing the same kind of division via a different set of dimensions.

Obesity, diabetes, heart disease, kidney disease, and liver disease are all two to three times more common in individuals who have a family income of less than $35,000 than in those who have a family income greater than $100,000. Among low-educated, middle-aged whites, the death rate in the United States—alone in the developed world—increased in the first decade and a half of the 21st century. Driving the trend is the rapid growth in what the Princeton economists Anne Case and Angus Deaton call "deaths of despair"—suicides and alcohol- and drug-related deaths.

The sociological data are not remotely ambiguous on any aspect of this growing divide. We 9.9 percenters live in safer neighborhoods, go to better schools, have shorter commutes, receive higher-quality health care, and, when circumstances require, serve time in better prisons. We also have more friends—the kind of friends who will introduce us to new clients or line up great internships for our kids.

These special forms of wealth offer the further advantages that they are both harder to emulate and safer to brag about than high income alone. Our class walks around in the jeans and T‑shirts inherited from our supposedly humble beginnings. We prefer to signal our status by talking about our organically nourished bodies, the awe-inspiring feats of our offspring, and the ecological correctness of our neighborhoods. We have figured out how to launder our money through higher virtues.

Most important of all, we have learned how to pass all of these advantages down to our children. In America today, the single best predictor of whether an individual will get married, stay married, pursue advanced education, live in a good neighborhood, have an extensive social network, and experience good health is the performance of his or her parents on those same metrics.

We're leaving the 90 percent and their offspring far behind in a cloud of debts and bad life choices that they somehow can't stop themselves from making. We tend to overlook the fact that parenting is more expensive and motherhood more hazardous in the United States than in any other developed country, that campaigns against family planning and reproductive rights are an assault on the families of the bottom 90 percent, and that law-and-order politics serves to keep even more of them down. We prefer to interpret their relative poverty as vice: Why can't they get their act together?
Stewart's mea culpa article is intelligent and well-written, but gravely flawed by many of the characteristic intellectual errors of the meritocratic community of fashion elite.
It's true that life in America has changed. Economic, regional, and cultural changes enormously increased social and physical mobility over much of the last century, killed local industries, and drained, year after year, ever larger percentages of people with brains and talent and initiative out American small towns and rural counties, sending them off to the big cities and their posh suburbs.
The automobile and the shopping mall killed Main Street, and the big multiplex theaters killed the hometown movie palace. Now Amazon is killing off the malls, and digital streaming off the Internet is killing off the multiplexes.
It is characteristic of members of the intelligentsia like Matthew Stewart to place limitless confidence in the calculative powers of human reason and the wisdom of credentialed experts and to imagine that the iron laws of economics and the choices of the gods of History can simply be set aside by the application of a bit of collectivist statism. That perspective is obviously dead wrong.
Unless you are prepared to go to the same lengths as Pol Pot and march people at gunpoint out of the city and into the countryside again, you are not going to change all this. A hundred years ago, many people were sad that the gods of Economics had decreed that the small family farm had to die and everyone had to move into town and take work at the factory or the mill, but it happened, and that is how economies progress and standards of living rise. But change always comes with some pain as its cost.
The establishmentarian feels guilty and suffers from an obsession with Equality. People like Matthew Stewart naturally believe that they are the cat's pajamas, the winners in Life's Olympic Race, and they assume that everybody is crying himself to sleep every night for not being one of them.
They are profoundly wrong in a couple of ways. First of all, it is possible to be a good man and a person of accomplishment and skill in all sorts of ways not measured by the SATs and entirely unconnected to graduation from elite schools or the publication of important books. There are circumstances in life in which you'd be better off having the assistance of a skilled automobile mechanic or a grizzled old hunting guide than that of an Oxford graduate or best-selling historian.
Then, it is also an important fact of life that it is simply impossible for everybody in the world to graduate from a top Ivy League school and grow up to be a doctor, lawyer, investment banker, or management consultant. The world really does have to have more Indians than chiefs. And not everybody thinks the same way. I have some things in common with Mr. Stewart: I went to Yale and I sometimes read The Atlantic. But they'd have to pay me by the hour to live in Brookline or any similar place. And I'm surrounded out here in rural Pennsylvania by people who feel the same way.
My Trump-voting neighbors here in the Central Pennsylvania boondocks are, it's true, ill-educated, and unfashionable. They are also a lot less affluent than people like Mr. Stewart. They do have some problems, but most of them, at least most of the older ones, are not unhappy. I think younger people out here in the sticks are more decidedly the left-behinds, and are more demoralized by the decay of Religion and the local economy, and the weakening of all the institutions. And it is there, not in the areas Mr. Stewart talks about, that we meritocrats are to blame.
If you go to Princeton or Yale, you can reject bourgeois society, organized Religion, and Kipling's gods of the copybook headings and (mostly) get away with it. You're a clever person and probably a strong-willed person, so you can do drugs and get up and go to work anyway. You believe in free love, but somehow in the end, you wind up married anyway. But where we catch a cold, the ordinary people back home get the Plague. Without the old-time Religion and conventional bourgeois morality keeping them on the straight and narrow, for them, everything goes to shit. You get single mothers, jailbird fathers dead at 35 from booze or meth or crashed cars, neglected, badly-raised kids, and ruined lives all over the place.
Our guilt does not lie in erecting barriers to entry at Ivy League schools. Our class's guilt lies in our snobbery, our boundless self-entitlement, and our abandonment of hometowns, home regions, and obligations of leadership and fellowship, in our home communities, and in the deplorable example we set with our wholesale rejection of tradition and conventional wisdom.
02 Apr 2018


An 1812 log cabin somewhere in the middle of nowhere.
Salena Zito takes personal exception to the coastal urban elites' condescension toward people who would rather live in the real America.
Earlier this year, Bill Kristol, editor at large at the Weekly Standard, tweeted ahead of the Super Bowl that it was too bad two Acela Corridor teams, the New England Patriots and the Philadelphia Eagles, had to play their matchup "in the middle of nowhere."

It was a reference to the host city of Minneapolis' location in the Midwest, far from the "civilized worlds" of Boston and Philadelphia – the assumption being that unless you are on the East Coast, your town's sophistication and glamour could not live up to the modern amenities of a cosmopolitan city.

In my estimation, there is no patch of geography in this country that is the "middle of nowhere." This is America; everywhere is the middle of somewhere.

Whether it is Tightwad, Mo., Mooresville, Ala., Hyder, Alaska, Oatman, Ariz., or right here in Lost River, W.Va., every place, large or small, depressed or thriving, or down to one mailbox on one lonely road, is somewhere.

We are all equals; we all contribute to the culture, diversity, dialect, and importance of this country. We build things, we serve in our communities, we serve in our military, we create families, businesses, and technology no matter where we are – we find a way to make each village and town and city a unique snapshot of this country.

It is an idea and an ideal that Hillary Clinton not only got wrong in the last election, but is still getting wrong; her remarks in India in March reinforced that.

"If you look at the map of the United States, there's all that red in the middle where Trump won," she said. "I win the coast, I win, you know, Illinois and Minnesota, places like that."

She went on to say that where she won, America is thriving: "I won the places that represent two-thirds of America's gross domestic product. So, I won the places that are optimistic, diverse, dynamic, moving forward. And his whole campaign, 'Make America Great Again,' was looking backwards."

Clinton is not the only person to hold that contempt. Many of her supporters have gone on to agree with her and to hold those same strident positions – and their condescension for half of the country has only deepened since November 2016.

No one has learned anything; no one cares to. Everyone wants to hold on to their bigotry towards the people who live and work and worship and go on with the business of life outside of "the places that represent two thirds of America's gross domestic product."

They don't get that they are just as optimistic, just as diverse, just as dynamic, and deal with the same issues of gender, sexuality, and race just as often as they do. They just don't make slick commercials of their lives to reinforce their worthiness.

They deal with these issues with dignity, not fanfare.

The response last week to Roseanne Barr's return to ABC primetime television floored these same elites – the two-episode premiere attracted an astounding 18.2 million viewers, over-performing in the very middle of America, in states like Oklahoma, Ohio, and Pennsylvania where towns like Claremore, Center of the World, and Intercourse are always beating back the notion they are in the middle of nowhere.

Cities like New York and Los Angeles did not even crack the top 20.

Those "middle of somewhere" places showed everyone they are a viable and prosperous force to be reckoned with and that whether they supported Trump or not, they are tired of rarely finding an American family who looked just like them on television – when they do, those shows are often canceled too quickly.

Politics, government, Hollywood, and popular culture have long overlooked the middle of America – diversity focuses of the last generation have been on color and gender, leaving behind the religious, cultural, and economic diversity of the Midwest.

Their role has been to be a butt of a joke, or mocked, or sneered at, or all three.

Our current political populism has been a pushback against larger institutions like Hollywood and its disconnect with the heartland – and it has also been a pushback against establishment politicians, like Clinton and her unmasked contempt for those who live here.

It is only once the people in power understand that Trump was the result of this movement, and not the cause, that maybe they'll start calling all of America the middle of somewhere.
—————————–
That contempt often proceeds to real aggression. As Glenn Reynolds observes:
"Gun Control [u]ltimately, [is] all about humiliating the flyover rubes and letting them know who is boss. Everything else is window dressing."
25 Mar 2018


"When you are asleep at the wheel you never see the junkie with the bicycle sliding into the road." — Vanderleun.
The automobile is both a prime symbol of, and the practical tool that makes possible, the freedom of the individual American. Jump in your car and just drive and you can put behind you all the bonds and troubles and obligations of ordinary human life. Get in your car, and you can be a thousand miles away, experiencing a completely different region and landscape, enjoying a completely different climate. The old mill closes down, and you're thrown out of work? Hop in the car and drive off to somewhere that the jobs are.
But, of course, this experience of freedom and empowerment is only for rural and suburban Americans and the rich. People living in cities usually cannot keep cars. Parking is expensive and just plain unavailable in most parts of town. A car in the city is only an expensive nuisance and a hostage to fate. Take your eye off it, and somebody will rob the battery, the air bags, and the radio, possibly also your tires. Park in the wrong place, and the city will tow you, introducing you to a genuine, real-life Circle of Hell experience.
No wonder city-types so bitterly resent the automobile and the freedom others have that they don't, and that undoubtedly has a lot to do with the ideology of junk science targeting the internal combustion engine so maliciously.
If you can't simply ban the automobile altogether, forcing everyone (everyone not rich or part of the Nomenklatura, that is) to queue up, identity papers ready and at hand, to ride jammed together like sardines, breathing each other's breath, smelling each other's body odors, on public transportation, the grand egalitarian experience, then, the next best thing has got to be the self-driving car.
If Jones's papers are not in order, if his fees and taxes aren't paid, if his internal passport doesn't give him permission to visit Peoria, well! Alexa will simply decline to carry him. If Jones is wanted for questioning or a new course in the proper language of Diversity, Alexa will fetch him directly to the police station with no nonsense about choice of destination.
It is only too easy to understand why the Left absolutely loves the idea of the driverless car. Personally, I think, for many of us, it will come down to actual armed resistance before we give up control of the wheel ourselves.
———————
Spengler despises the crude scientism of it all, and he thinks we ought to be getting the torches and pitchforks ready.
That's why Hollywood grinds out movie after movie about computers coming to life, programmers falling in love with their avatars, and so forth, starting with Steven Spielberg's ghastly "AI" (2001). The liberal techno-utopians of Silicon Valley believe they are beneficent Dr. Frankensteins, creating the New Man.

And now we have video of the man behind the curtain.

The video shows a woman walking her bicycle across the highway: the Uber car was going at a good clip and coming over a rise. Not quite three seconds pass between the first sight of the pedestrian and impact, enough time for an alert human driver to spin the wheel. The human driver in the car was supposed to correct for machine errors, but the video shows one Rafaela Vasquez a/k/a Rafael Vasquez staring downwards until the moment of the crash. Reports Arizona's 12News:

According to records from the Arizona Department of Corrections, the safety driver sitting in the front seat of a self-driving Uber in Tempe at the time of a fatal pedestrian crash is a convicted felon.

The driver, 44-year-old Rafaela Vasquez, served several years in prison under the name Rafael Vasquez. She was charged with unsworn falsification and attempt to commit armed robbery. She was released from prison in 2005.

The Wizard turns out to be an obese and indifferent minimum-wage employee with a prison record pretending to work while Uber pretends to pay him or her, as the case may be. …

It will take more than the avoidable death of Elaine Herzberg to persuade the public to light their torches and march on the castle of the Frankenstein wannabes. Nonetheless the disaster offers a teachable moment. The liberal obsession with arbitrary self-definition rests on the pseudo-scientific premise that we are the determinate, machine-like outcome of physical processes. Destroy this premise and the whole artifice of liberal thinking will crumble.
HT: Vanderleun.
18 May 2017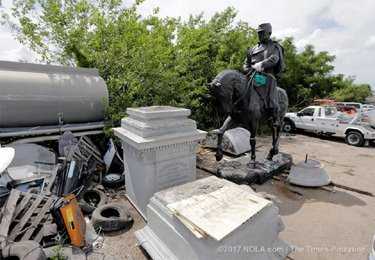 MacAoidh notes that the revolutionary Left is reveling in its power to tear down monuments in New Orleans because that city, like so many others in this country, has become a one-party state ruled by a democrat party kleptocracy with a guaranteed grip on office.
Intelligent adults can see a Beauregard or a Robert E. Lee or a Jefferson Davis for the complex humans they were, and learn the lessons their lives can teach. Intelligent adults can also mark their contributions to what is good in our society while acknowledging their failings and those of the time in which they lived.

But it's clear we have a shortage of intelligent adults. We particularly have that shortage in New Orleans, and have for some time.

It has worsened in recent years, but the exodus of intelligent adults – it's been called "white flight," but this is a lie; the middle class and the productive class is made up of people of all races, whether they share similar politics or not – from New Orleans is half a century old. As such, the city is made up of a new class of post-Katrina carpetbaggers, college students who hail mostly from far away, a giant underclass living on poor wages and government assistance, an outsized criminal class in and out of the penal system, small pockets of put-upon middle class homeowners and a declining monied elite. Most of the people who make the New Orleans metro area work have moved out of the city limits, and most of those moved away a generation or two ago.

And it's mostly those people who have taken up the cause of those monuments. Not because they're "white supremacists;" that is an ugly slur thrown around by the same social justice warriors who throw around racism as a towel into the ring in admission they lack a better argument. They wish to preserve the history, and a connection to the culture they and their families were raised in.

But they don't live in New Orleans anymore.

That feeling of powerlessness, of knowing there is nothing they can do to stop the bowdlerization of the city's history and that of the region, carries with it pain, to be sure. But that powerlessness is a choice; these people left. That's not an indictment of them; they left for a better life in the suburbs or in another city. But the choice carries a consequence – when you leave, it's those you leave behind who make the decisions in New Orleans. And when what's left is a city of fools who make stupid decisions, last night is the natural result.

The question is what to do about it. Should the productive class, the protectors of the history and tradition of the region, the put-upon and the assailed simply move on? If so, don't be surprised when the Beauregard takedown begets the Lee takedown and the Lee takedown begets the takedown of the Andrew Jackson statue in the famous square which bears his name.

Perhaps this can't be stopped. Perhaps all that can be done is to inflict one's own set of consequences on those left in the city.

After all, the productive classes in the suburbs still contribute an enormous economic impact to New Orleans. Maybe that should be rethought. Maybe the restaurateurs who live in Metairie should move their businesses closer to their homes. Maybe the lawyers and stockbrokers with offices in Orleans Parish should decamp for the 'burbs and eschew the commute.

And maybe the captains of the Mardi Gras krewes who contribute such a massive amount to the city's economy each year ought to rethink what they're doing. After all, those krewes were all formed by the same people who contributed to the erection of the Lee, Davis and Beauregard statues. Their heritage is bound up in the same package as those monuments Mitch Landrieu and his bowdlerizing fan club have been howling to destroy.

And most of those krewe members don't live in New Orleans anymore, either.

There are lots of parade routes in Metairie and Kenner, and lots of them in St. Tammany Parish. Those routes might not have the tradition of a St. Charles Avenue or Canal Boulevard, but they also don't have the elevated risk of paradegoers being shot or the dysfunctional police department incapable of arresting the bad guys.

And these judgments can now be made, because of this corrosive, stupid modern mentality which is taking down the monuments. If the culture which gave us Beauregard is to be scrubbed, then the fruits of that culture shouldn't be enjoyed – and those wonderful Mardi Gras parades are some of those fruits. Let the good follow the bad out of the city, and let Bacchus and Endymion and the others roll down Veterans Boulevard or Metairie Road for a time.

Landrieu has cast his marker down. New Orleans' traditions and cultural patrimony is no longer welcome. So be it. Let the full consequences of that decision fall. And if "we don't live there anymore," then let the economic and other effects of that be felt.
Thought experiment: how much longer would democrat party machines control US cities, how long would it be before working middle class Americans and families returned to them, if we somehow arranged to tear down all welfare housing and deported from those cities everybody on welfare?
22 Apr 2017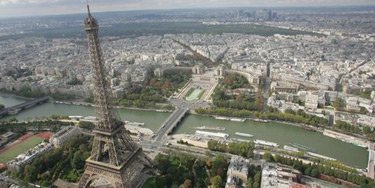 Christopher Caldwell, in City Journal, discusses the untranslated three-book oeuvre of French commentator Christophe Guilluy, a specialist observer of French demographics, real estate, and economic developments, who describes the development, in France, of a similar practical separation and conflict of interests between the prosperous urban community of fashion elite and La France périphérique, the Gallic equivalent of Fly-Over America.
[T]he urban real-estate market is a pitiless sorting machine. Rich people and up-and-comers buy the private housing stock in desirable cities and thereby bid up its cost. Guilluy notes that one real-estate agent on the Île Saint-Louis in Paris now sells "lofts" of three square meters, or about 30 square feet, for €50,000. The situation resembles that in London, where, according to Le Monde, the average monthly rent (£2,580) now exceeds the average monthly salary (£2,300).

The laid-off, the less educated, the mistrained—all must rebuild their lives in what Guilluy calls (in the title of his second book) La France périphérique. This is the key term in Guilluy's sociological vocabulary, and much misunderstood in France, so it is worth clarifying: it is neither a synonym for the boondocks nor a measure of distance from the city center. (Most of France's small cities, in fact, are in la France périphérique.) Rather, the term measures distance from the functioning parts of the global economy. France's best-performing urban nodes have arguably never been richer or better-stocked with cultural and retail amenities. But too few such places exist to carry a national economy. When France's was a national economy, its median workers were well compensated and well protected from illness, age, and other vicissitudes. In a knowledge economy, these workers have largely been exiled from the places where the economy still functions. They have been replaced by immigrants. …

Top executives (at 54 percent) are content with the current number of migrants in France. But only 38 percent of mid-level professionals, 27 percent of laborers, and 23 percent of clerical workers feel similarly. As for the migrants themselves (whose views are seldom taken into account in French immigration discussions), living in Paris instead of Boumako is a windfall even under the worst of circumstances. In certain respects, migrants actually have it better than natives, Guilluy stresses. He is not referring to affirmative action. Inhabitants of government-designated "sensitive urban zones" (ZUS) do receive special benefits these days. But since the French cherish equality of citizenship as a political ideal, racial preferences in hiring and education took much longer to be imposed than in other countries. They've been operational for little more than a decade. A more important advantage, as geographer Guilluy sees it, is that immigrants living in the urban slums, despite appearances, remain "in the arena." They are near public transportation, schools, and a real job market that might have hundreds of thousands of vacancies. At a time when rural France is getting more sedentary, the ZUS are the places in France that enjoy the most residential mobility: it's better in the banlieues.

In France, the Parti Socialiste, like the Democratic Party in the U.S. or Labour in Britain, has remade itself based on a recognition of this new demographic and political reality. François Hollande built his 2012 presidential victory on a strategy outlined in October 2011 by Bruno Jeanbart and the late Olivier Ferrand of the Socialist think tank Terra Nova. Largely because of cultural questions, the authors warned, the working class no longer voted for the Left. The consultants suggested a replacement coalition of ethnic minorities, people with advanced degrees (usually prospering in new-economy jobs), women, youths, and non-Catholics—a French version of the Obama bloc. It did not make up, in itself, an electoral majority, but it possessed sufficient cultural power to attract one.
It is only too easy to see why a populist and nationalist revolt against the elite urban community of fashion is an international development.
A must-read.
21 May 2015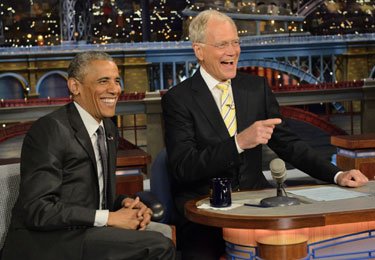 John Nolte explains how David Letterman responded to losing to Jay Leno by becoming a toady to the urban establishment.
I didn't leave David Letterman, David Letterman left me.

It was sometime around 2003 when I began to realize Letterman didn't like me anymore. His anger was no longer subversive and clever, it was bitter and mean-spirited and palpably real. He was a jerk playing to his loyal audience — urban, cynical, elite, Blue State jerks. The humble, self-deprecating Dave had become the nasty, arrogant Letterman, an unrecognizable bully who reveled in pulling the wings off those he saw as something less.

Chris Christie's weight; Rush Limbaugh's personal life; everything Bill O'Reilly; Bush, Cheney, Palin, and the last straw, a statutory rape joke about Palin's 15 year-old daughter. Suddenly you were a dangerous idiot for protecting the most Indiana of things — your gun.

The man who could make you laugh at yourself now wanted to hurt and humiliate.

Letterman's politics were never the issue. You can't share my passion for show business and movies and let politics get in the way. Carlin was probably to the left of Letterman, but Carlin was funny and thoughtful and smart. Watching Letterman berate and hector and attempt to humiliate conservative guests over guns and the climate and the brilliance of Obama was boorish. Describing Mitt Romney as a "felon" was just sad.

The American Heartland had disappointed its own Indiana son, and for more than a decade the son was out for payback.

Or maybe Letterman was just so scared and insecure about losing what little audience he had, that he sold out his genius and Midwestern decency to bitterly cling to them? He certainly never again displayed the courage to challenge them, or to make them feel in any way uncomfortable.

Night after night the man who became my hero for biting the hand was now licking the boot — and convinced while doing so that he's superior to the rest of us.

How I pity him.
Read the whole thing.
28 Apr 2015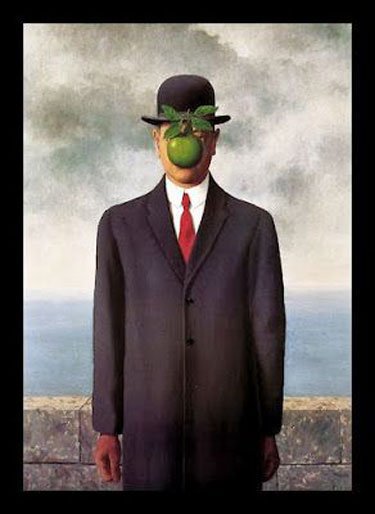 Henry Dampier has a fine cynical essay on the class structure of contemporary America (and Europe).
[There exists] a cultural and political tension between the American cities and the outside. Within the cities, the people are soft, disarmed, and androgynous. They're lead by something like a slave caste of bureaucrats and artisans, lead by a small number of oligarchical corporate capitalists who own most of the property and the access to legal and financial leverage points over the system of trade.

Especially since the 2007 financial crisis and the escalation of the cost of living in these cities, this slave caste (which is often quite wealthy, as slave castes often have been, particularly in the East) has become more squeezed and dependent. It's not uncommon to hear of particularly ambitious corporate slaves who have achieved 'success' only to be able to barely afford to buy a humble, lower middle class home in their favored region near the seat of power. Outside the seat of power, even a truck driver can afford to buy a beautiful home which would cost millions of dollars in the central cities. Inside the seat of power, most of the slaves can only afford to rent from either higher-end slaves or members of the oligarchical class.

This slave class tends to look down on the more numerous classes of dependent helots, concentrated in the same cities, but with a sense of pity, occasionally with contempt. The slave class sees it as their moral obligation to support and even uplift the helots, who are usually darker skinned. The slave class both hates, fears, and ridicules the freer middle classes from the less densely populated regions in the interior, not understanding how and why the freemen tend to value their rights to bear arms and hold their own property so much. …

This is really the shape of the conflict that's brewing on the North American continent. The higher end slaves and the oligarchs don't like the freemen, their culture, and their resistance to their oligarchical masters who live in New York, Washington, and elsewhere, even around the globe. The Republican party essentially represents the freemen, but usually only in terms of their brokering the many surrenders to the oligarchs and their golden-chained toads.
Read the whole thing.
Hat tip to Vanderleun.
25 Feb 2014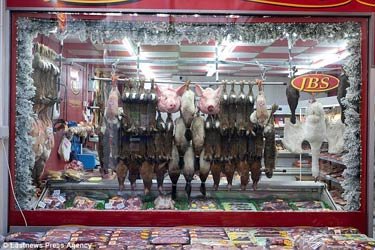 It happened in Sudbury, as the Daily Mail reports:
A high Street butcher in Suffolk has been forced to take down its window display, as shoppers are said to be offended by the sight of bits of dead animals.

Hanging pigs' heads, limp rabbits and dead pheasants were upsetting the children.

The senseless twits behind the hate campaign mounted against JBS Family Butchers of Sudbury say they are trying to protect their children from the ugliness of 'mutilated carcasses'.

This seems implausibly puritanical. Any child with internet access and a stack of video games will have seen far worse.

These sentimental folk are part of an ever-growing collective ignorance about food and farming that is immensely damaging not only to the countryside, to farming and to animals — but also to ourselves.

Our lack of understanding of where food really comes from is helping to create mountains of food waste and a population of fat, unhealthy Britons.
Read the whole thing.
This kind of urban deracination has real consequences. People who think that meat is manufactured somewhere in a factory laboratory look upon all animals as lovable Disney characters and are eager to ban hunting and all the other field sports. Meanwhile, demand for antiseptic and completely uniform food items makes old-fashioned family farming and human animal husbandry impossible and meat animals are that much more certain to be raised in unnatural factory farm hatcheries. Human ignorance and alienation from Nature and the countryside is bad for agriculture, bad for animals, bad for the countryside, and impoverishing to human culture.
Hat tip to Jesse Swan.