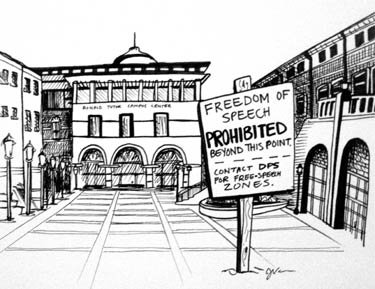 Rod Dreher learns that Free Speech at Stanford is pretty darn expensive.
[L]ast week… the student government at Stanford refused to commit funds for a one-day conference run by the Stanford Anscombe Society, an organization named for the prominent 20th century British philosopher. Why the stinginess? Because the Anscombe Society stands, in part, for defending traditional teachings about sexual morality and the family. Their conference will bring to campus Ryan T. Anderson, … a Princeton-trained political philosopher best known for making a natural law case for privileging traditional marriage. That cannot happen on the campus of Stanford University, it seems; one student said that the presence — the mere presence! — of Anderson would make her feel "unsafe." Thus does one of the world's great universities appear as the Palo Alto School For Tots. …

[A]s was pointed out, correctly, refusing to fund a conference isn't the same thing as suppressing it.

The SAS found other sources of funding for its conference, and all was well. Until this week. From an SAS news release:

The Stanford Anscombe Society (SAS) is requesting that Stanford University remove a burdensome $5,600 security fee it imposed on the conference organizers following the Graduate Student Council's revocation of funding for its April Communicating Values conference.

"This fee is a tax on free speech," said Judy Romea, SAS co-president. …

The fee is intended to pay for the presence of ten event security personnel, including four police officers, at the single-day conference. Approximately, 120 participants are expected, making the ratio of participants to security personnel 12 to 1. The administration only insisted on the added security after a vocal group of LGBTQ activists announced their opposition to the event. …

[T]he Grad Student Council's decision to revoke the previously-granted $600 of funding was because of this same pressure from LGBTQ activists. …

This is jaw-dropping. The only danger on campus is to the 120 participants in this conference, who will no doubt face heckling and possibly worse from gay activists and their allies, trying to disrupt the meeting. And the university — an actual American university! — is requiring them to pay nearly $6,000 to guarantee their right to lawfully assemble and practice free speech. On a campus. Of an American university.